New York Passes Statewide Ban On Single-Use Plastic Bags — What You Need To Know
New York has become the second U.S. state to ban single-use plastic shopping bags, and here is everything you need to know.
Gov. Andrew Cuomo (D) and Democratic lawmakers reached a deal to forbid single-use plastic bags statewide as part of New York's $175 billion budget. The ban is set to officially take effect on March 1, 2020. California is the only other state thus far to have banned plastic bags.
New York's ban will reportedly apply to all single-use plastic bags provided by stores to carry goods. Any store required to collect sales tax — including supermarkets, retailers and small businesses — will have to follow the new law. Each county within the state can decide whether or not to charge a small fee — of around 5 cents — for paper bags. The ban was introduced primarily for environmental reasons, as plastic bags contribute to pollution. Cuomo initially supported the measure last year.
Reusable bags made of cloth or other similarly durable materials will not be prohibited as part of the ban.
Congrats, New York, for banning all single-use plastic bags! pic.twitter.com/jTDLrQnJl0

— ATTN: (@attn) April 2, 2019
There are also 11 exceptions to the plastic bag ban. Stores can use these bags for:
-uncooked meat, fish or poultry;
-bulk items;
-sliced or prepared foods;
-a newspaper for delivery, or prescription drugs.
Trash bags, food-storage bags and to-go bags handed out at restaurants are also exempt from the ban.
SLIDESHOW: TOP DEMOCRATS RUNNING FOR PRESIDENT IN 2020
A portion of the fees charged for paper bags are also planned to be donated to New York's Environmental Protection Fund.
According to several reports, people who receive food stamps and other similar benefits will be exempt from paying the paper-bag fee. Environmental groups have reportedly criticized the fact that counties may opt to not charge such fees, saying the fee should be required across the board in order to help combat pollution. The food industry has also widely blasted the paper bag ban, with grocery chains like Wegmans opposing it.
New York State's budget also includes a proposed "congestion pricing fee" for drivers entering New York City.
Read more about: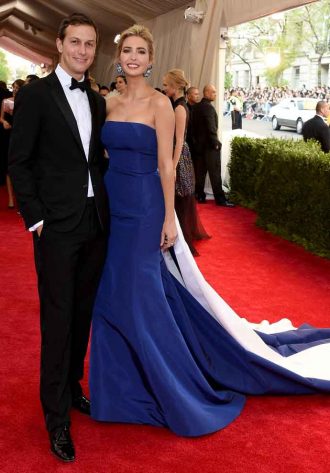 Click here for the 10 Most Powerful Political Couples Slideshow
Listen to the uInterview Podcast!
Get the most-revealing celebrity conversations with the uInterview podcast!