Jared Kushner Refuses To Say If He Would Call FBI If Russia Emailed Trump Campaign Again [VIDEO]
Jared Kushner, President Donald Trump's son-in-law and senior adviser, refused to say in an interview this week whether he would call the FBI if Russia ever tried to contact Trump's campaign via email again, as records pertaining to the 2016 election cycle revealed.
Speaking on Axios on HBO on Monday, 38-year-old Kushner didn't explicitly say he would refuse and report the Russian government's efforts to help him or the president.
"I don't know, it's hard to do hypotheticals but the reality is that we were not given anything that was salacious," Kushner replied when Axios's Jonathan Swan asked him point-blank about whether he would ever alert federal investigators should Russia try to reach out to him or anyone else on Trump's campaign team. Swan also noted that the words "Russia" and "Clinton" appeared in the subject line of the email Kushner reportedly received.
"We're in a place now where people are playing Monday morning quarterback and they're being so self-righteous," Kushner also said in the interview, before launching into an explanation of his many duties as a member of a real estate family and how he juggled these with his responsibilities to Trump's campaign.
Subscribe!
A week of political news in your in-box.
We find the news you need to know, so you don't have to.
Kushner's answer has already caused concern among many Trump critics who fear Russia may attempt to help the president win re-election in 2020.
Kushner also called the meeting with the Russians a "total waste of time."
Asked by @JonathanVSwan whether he would call the FBI if Russia again tried to help the Trump campaign, Jared Kushner said "I don't know, it's hard to do hypotheticals." pic.twitter.com/AQGUYoqpV4

— Josh Campbell (@joshscampbell) June 3, 2019

Following the conclusion in March of former special counsel Robert Mueller's two-year probe on Russian interference in the 2016 election, Trump's inner circle claimed victory after Mueller found no evidence of collusion between his campaign and the Kremlin. Kushner was one of several Trump allies to say that he believed the investigation ultimately hurt the country.
SLIDESHOW: TOP DEMOCRATS RUNNING FOR PRESIDENT IN 2020
Kushner was interviewed for multiple hours last year by Mueller's team about his communications with Russia during the 2016 campaign.
Jared Kushner said he doesn't know whether he'd call the FBI if he were to receive an email today like the one before the campaign's Trump Tower meeting, which had the subject line: "Re: Russia – Clinton – private and confidential."https://t.co/hpnXEqOw4d

— Citizens for Ethics (@CREWcrew) June 3, 2019
Read more about:
Leave a comment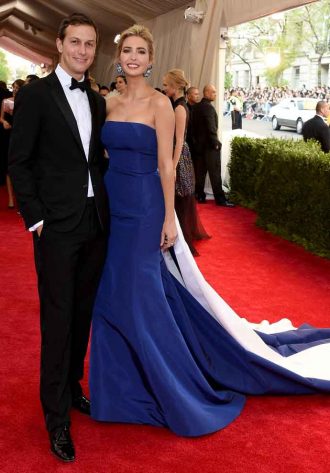 Click here for the 10 Most Powerful Political Couples Slideshow
Listen to the uInterview Podcast!
Get the most-revealing celebrity conversations with the uInterview podcast!