Trump Tweets That Russia "Helped" Him Win Election, Then Contradicts Himself Minutes Later
President Donald Trump told reporters early Thursday that he does not believe Russia's government helped him win the 2016 election, a statement that appeared to contradict what he said in a tweet about the subject that same morning.
"No, Russia did not help me get elected," Trump said right before heading to Colorado. Less than 30 minutes earlier, the president had posted the following on Twitter about Special Counsel Robert Mueller's investigation into Russian meddling in 2016.
Russia, Russia, Russia! That's all you heard at the beginning of this Witch Hunt Hoax…And now Russia has disappeared because I had nothing to do with Russia helping me to get elected. It was a crime that didn't exist. So now the Dems and their partner, the Fake News Media,…..

— Donald J. Trump (@realDonaldTrump) May 30, 2019
….say he fought back against this phony crime that didn't exist, this horrendous false accusation, and he shouldn't fight back, he should just sit back and take it. Could this be Obstruction? No, Mueller didn't find Obstruction either. Presidential Harassment!

— Donald J. Trump (@realDonaldTrump) May 30, 2019
President Trump: Russia would prefer Hillary Clinton as President.

U.S. Intelligence Community 2017 Assessment: "Putin and the Russian Government developed a clear preference for President-elect Trump." pic.twitter.com/9y54naP3n8

— Josh Campbell (@joshscampbell) May 30, 2019
SLIDESHOW: TOP DEMOCRATS RUNNING FOR PRESIDENT IN 2020
Trump drew further ire from Democratic lawmakers in the days after Mueller's full report on his probe was released following news that he called Russian President Vladimir Putin. 
Putin recently praised Mueller's two-year inquiry for being "objective" and for finding no evidence of collusion between Trump's 2016 campaign and the Kremlin. During a press conference following a summit between the two leaders in Helsinki, Finland last July, Trump famously said he believed Putin over U.S. intelligence agencies regarding the conclusion that Russia interfered in the 2016 election.
Trump also blasted Mueller as being "conflicted" and again accused Democrats of pushing fake conspiracy theories against him.
Read more about: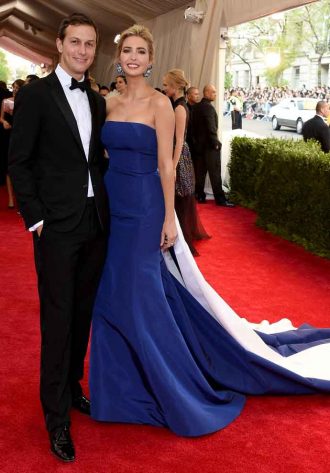 Click here for the 10 Most Powerful Political Couples Slideshow
Listen to the uInterview Podcast!
Get the most-revealing celebrity conversations with the uInterview podcast!