Ann Coulter Says She Regularly Talks To & "Advises" Donald Trump [VIDEO]
Conservative firebrand Ann Coulter said Wednesday she believes President Donald Trump is "dead in the water" if he agrees to Congress's proposal to reopen the government without funding the southern border wall.
In an interview with HBO, Coulter stated she still supports Trump despite the shutdown — which last weekend became the longest one in American history and on Thursday entered its 27th day — even though she has been very upset with his inability to get the border barrier constructed. Coulter commented on the state of illegal immigration and national security in the interview by making fear-mongering statements about migrants bringing drugs and other crime into the U.S. Last summer, she drew controversy yet again after falsely claiming migrant children who were separated from their parents at the border were "actors."
"More Americans die from drug overdose every year than died in the entire course of the Vietnam War, and the vast majority of those drugs are being brought in because we have a wide open border," Coulter said. "I care more about that than I care about the Yosemite gift shop being open."
Coulter also revealed she regular speaks with Trump on the phone.
Subscribe!
A week of political news in your in-box.
We find the news you need to know, so you don't have to.
"I've been advising the president whether on Twitter columns or in private conversations that you're not allowed to know about," Coulter told the interviewer, Michael Moynihan of VICE News.
More than 800,000 federal workers have been left without pay or furloughed due to the shutdown as the stalemate on border security and the wall continues. The Democratic-controlled House of Representatives has passed numerous bills to reopen the government without providing the $5.7 billion in funds for the wall Trump is demanding, but the president has not backed down and Sen. Mitch McConnell (R-Ky.), the Senate majority leader, has refused to bring up any of these bills. Although many Republican lawmakers initially seemed to side with Trump, some have now begun insisting that the president and both houses of Congress work together to end the shutdown without funding the wall. Recent polls have shown nearly half of Americans (47%) blame Trump and the GOP for the government being closed.
"It is self-preservation," Coulter said in response to a question on Trump's inability to secure wall funding. She added, "because he is dead in the water if he does not build that wall. Dead, dead, dead."
SLIDESHOW: DONALD TRUMP'S 30 CRAZIEST TWEETS
Last year, Coulter said she would not vote for Trump in 2020 if he didn't succeed in building the wall by then.
"No. Nor will, I think, most of his supporters," Coulter said on Trump's chances in the next election. "Why would you? To make sure, I don't know, Ivanka [Trump] and Jared [Kushner] can make money? That seems to be the main point of the presidency at this point."
Coulter also called the president "gutless" and a "vulgar publicity hound" for failing to deliver on one of his biggest 2016 campaign promises. Late last year, Coulter wrote an opinion piece on Trump and the border wall that she published on her website.
Other serious consequences of the shutdown include the Food and Drug Administration suspending routine food inspections, Transportation Security Administration officials calling out sick or not properly scanning travelers at airports, and chaos like pollution unfolding at national parks around the country.
Read more about:
Leave a comment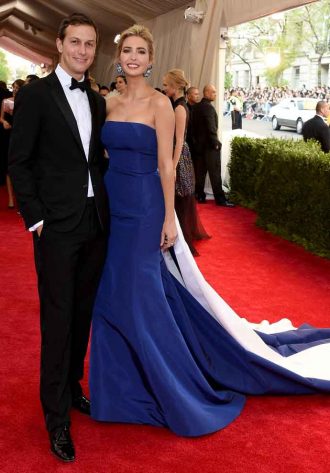 Click here for the 10 Most Powerful Political Couples Slideshow
Listen to the uInterview Podcast!
Get the most-revealing celebrity conversations with the uInterview podcast!