New York State Senate Passes Bill Allowing Congress To Get Trump's State Tax Returns
On Wednesday, the New York State Senate approved a bill that would make it simpler for lawmakers to acquire President Donald Trump's state tax returns.
Gov. Andrew Cuomo (D) stated he would sign this bill should it reach his desk.
The legislation, named the TRUST Act, passed with a 39-to-21 vote. It would essentially authorize the commissioner of the state Department of Taxation and Finance to disclose any state taxes House Ways and Means Committee and Senate Finance Committee leaders might request for any "specific and legitimate legislative purpose."
Meanwhile, other states like California and Washington have attempted to force Trump to release his tax returns by proposing measures that would keep him off the 2020 presidential ballot unless he does so. New York's bill is perhaps the most relevant, however, is the state is where Trump's home and business headquarters are located.
Subscribe!
Stay informed on the latest political news.
This week, Treasury Secretary Steve Mnuchin officially refused to let congressional Democrats see Trump's federal tax returns, despite the House Ways and Means Committee striving to make the Internal Revenue Service set a deadline for their release.
SLIDESHOW: TOP DEMOCRATS RUNNING FOR PRESIDENT IN 2020
Democratic lawmakers have been insisting Trump's tax returns must be made public in order to determine whether or not he has any potential conflicts of interests because of financial ties to foreign entities like Russia or Saudi Arabia.
New York Democratic state Sen. Brad Hoylman said in a statement that Trump "has broken 40 years of political tradition by not releasing his tax returns" and that his administration is now "precipitating a constitutional crisis by shielding the president from congressional oversight over those returns."
The new bill introduced by New York's State Senate would also make an exception for state law, which dictates that a person who has been tried for a crime by the federal government cannot be prosecuted by New York's government for that same offense.
"The fact is that President Trump is taking this country in a very dangerous path," declared N.Y. @SenGianaris, a Queens Democrat, before the passage of the bill.

Next, it goes to the Assembly.

Quick hit, @CourthouseNews. Another update ahead soon.https://t.co/6KRAmjGtmE

— Adam Klasfeld (@KlasfeldReports) May 8, 2019
Read more about: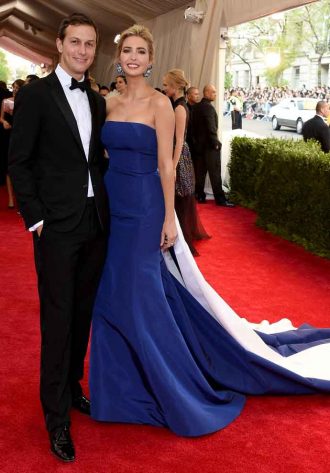 Click here for the 10 Most Powerful Political Couples Slideshow
Listen to the uInterview Podcast!
Get the most-revealing celebrity conversations with the uInterview podcast!