Who Is Matthew Calamari, Executive Vice President Of Trump Organization & Trump's Former Bodyguard?
The name of one particular man linked to President Donald Trump went viral last week following Michael Cohen's congressional testimony: Matthew Calamari. 
Calamari is an executive vice president of the Trump Organization who also reportedly served as Trump's bodyguard and occasional chauffeur.
Calamari quickly began trending on social media — especially Twitter — after Cohen's testimony last week, undoubtedly perhaps partly due to his caricature-like appearance. Interviews Calamari has given in recent years reveal his fierce loyalty to Trump.
"I love the guy," Calamari told Bloomberg News of Trump in 2015. "My thing is, I've always promised I would, knock on wood, never let anything happen to him."
Subscribe!
A week of political news in your in-box.
We find the news you need to know, so you don't have to.
FYI This is Matthew Calamari: pic.twitter.com/97Nkq6f2X3

— Alex Wagner (@alexwagner) February 27, 2019
"You'd do anything for me, wouldn't you, Matty?" Trump asked

"Yes, sir, Mr. Trump," Calamari replied.

Moments later, Trump upped the ante: "Would you kill for me, Matty?"

Calamari's answer came quickly. "Yes, sir," he said.https://t.co/KeKjjg3bXq

— Chris Hayes (@chrislhayes) February 28, 2019
Trust me, I'm Matthew Calamari pic.twitter.com/PR3FrSXNze

— Kyle (@twentycap) February 27, 2019
THE HIERARCHY: The Trump Org. executive team

– Alan Weisselberg
– Donald Trump Jr
– Eric Trump
– Matthew Calamari
– Ricky Rigatoni
– Joey Cannelloni
– Tony Minestrone
– Tommy Salami
– Larry Lasagne
– Mario Marinara
– Christoph Caprese
– Terrance Tortellini
– Pauli Parmesan

— David Leavitt (@David_Leavitt) March 1, 2019
SLIDESHOW: TOP DEMOCRATS RUNNING FOR PRESIDENT IN 2020
According to The Washington Post, Calamari previously worked as a security guard at the U.S. Open tennis tournament in New York, and Trump first noticed him in 1981.
Trump also praised Calamari in his 2004 book Trump: How to Get Rich. 
"After getting to know Matthew, I realized he had a lot more to offer than his job title warranted, and he has proven me right," Trump wrote of Calamari, noting he was in charge of security at the Trump Organization. "He's a dedicated and trustworthy worker, and any CEO in his right mind would want to have him around."
Calamari also made an appearance on Season 2 of The Apprentice, which Trump hosted from 2008 to 2015.
Cohen revealed during his House testimony that Calamari was among the people who knew that Trump had at least once provided inflated assets inflated assets to an insurance company. Trump's former personal lawyer was responding to one of several questions from 29-year-old freshman Rep. Alexandria Ocasio-Cortez (D-N.Y.).
Read more about:
Leave a comment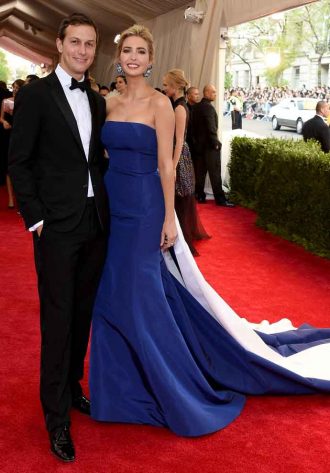 Click here for the 10 Most Powerful Political Couples Slideshow
Listen to the uInterview Podcast!
Get the most-revealing celebrity conversations with the uInterview podcast!