Trump Wonders In Tweet If Supporters Would "Demand" He "Stay Longer" Than 2 Terms In Office
President Donald Trump has made it no secret he would like to stay in office for a long time, and on Sunday, he reiterated that desire.
Trump used Twitter to attack The New York Times and Washington Post, both of whom he blasted after claiming they report fake news about him. He called the pair of newspapers "a disgrace" and "the Enemy of the People" and said he was confident they would "quickly go out of business & be forever gone" in six years when he leaves office, before writing in parentheses, "do you think the people would demand that I stay longer?"
…..news is that at the end of 6 years, after America has been made GREAT again and I leave the beautiful White House (do you think the people would demand that I stay longer? KEEP AMERICA GREAT), both of these horrible papers will quickly go out of business & be forever gone!

— Donald J. Trump (@realDonaldTrump) June 16, 2019

Subscribe!

A week of political news in your in-box.
We find the news you need to know, so you don't have to.

Trump, who last week turned 73, has previously suggested he would like to serve three or more terms in office, something that would violate the Constitution's 22nd Amendment. Congress passed this amendment in 1947, two years following Franklin D. Roosevelt's death, which came shortly after his unprecedented fourth term.
SLIDESHOW: TOP DEMOCRATS RUNNING FOR PRESIDENT IN 2020
In March 2018, it was revealed that Trump had told donors during a fundraiser at Mar-a-Lago that he admired Chinese President Xi Jinping for having recently declared himself the country's leader for life.
"Maybe we'll have to give that a shot someday," Trump reportedly said of Xi's decision.
In April, shortly after the full report of Robert Mueller's Russia investigation was released, Trump received a trophy during a White House event for the Wounded Warrior Project and joked that it would "find a permanent place" there "at least for 10 or 14 years, but we would cause bedlam if I said that, so we'll say six."
Some polls have shown 2020 Democratic front-runner Joe Biden slightly leading Trump for a presidential bid. However, many pundits have also warned that Trump could win re-election, as he continues to boast strong support and enormous fundraising numbers.
Read more about:
Leave a comment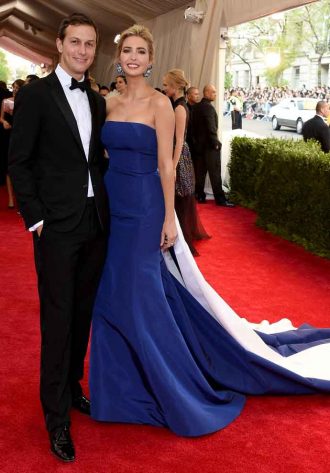 Click here for the 10 Most Powerful Political Couples Slideshow
Listen to the uInterview Podcast!
Get the most-revealing celebrity conversations with the uInterview podcast!