Trump Responds To Mueller Report, Celebrates Victory On Twitter: "Complete And Total Exoneration"
On Sunday, President Donald Trump responded to the release of special counsel Robert Mueller's Russia probe report with a celebratory Twitter post, falsely claiming he was completely exonerated.
"No Collusion, No Obstruction, Complete and Total EXONERATION. KEEP AMERICA GREAT!" Trump tweeted after Attorney General William Barr sent a four-page letter to Congress summarizing the conclusions of Mueller's report.
No Collusion, No Obstruction, Complete and Total EXONERATION. KEEP AMERICA GREAT!

— Donald J. Trump (@realDonaldTrump) March 24, 2019

Subscribe!

A week of political news in your in-box.
We find the news you need to know, so you don't have to.

Although Mueller found no evidence of conspiracy or coordination between Trump 2016 campaign officials and the Kremlin, the special counsel has yet to reveal his findings regarding potential obstruction of justice by the president, so Trump is not in fact yet fully exonerated in this regard. Barr, however, did clear the president of obstruction, something that angered many Democratic lawmakers and led to them calling on the Justice Department's leader to testify.
White House Press Secretary Sarah Huckabee Sanders also said in a statement that Trump had been completely exonerated.
SLIDESHOW: TOP DEMOCRATS RUNNING FOR PRESIDENT IN 2020
Many Trump-backing conservative news outlets like Fox News reveled in the outcome of Mueller's inquiry, and the president even quoted some of the network's anchors on Twitter:
"No matter your ideologies or your loyalties, this is a good day for America. No American conspired to cooperate with Russia in its efforts to interfere with the 2016 election, according to Robert Mueller, and that is good." @BretBaier @FoxNews

— Donald J. Trump (@realDonaldTrump) March 25, 2019
The president's eldest son, Donald Trump Jr., also celebrated the result of the probe on Twitter by using the hashtag "#CollusionTruthers."
It's time to hold the conspiracy caucus in Congress accountable. These Democrat Truthers spent the last 2 years knowingly lying to the American people about collusion. They've disgraced their offices and should step down. #CollusionTruthers pic.twitter.com/YlgWyYQIel

— Donald Trump Jr. (@DonaldJTrumpJr) March 25, 2019

Mueller also announced in his final report that no new charges or indictments would be brought against Trump associates. Many news outlets and legal pundits had speculated that Trump Jr. would be indicted. The president's eldest son could still, however, face charges from the Southern District of New York.
Read more about:
Leave a comment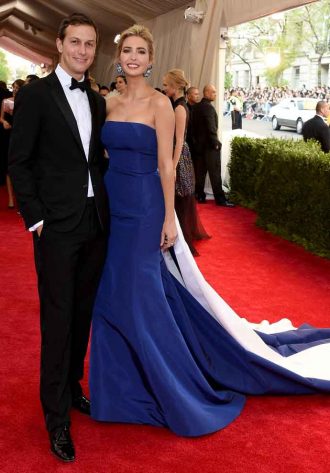 Click here for the 10 Most Powerful Political Couples Slideshow
Listen to the uInterview Podcast!
Get the most-revealing celebrity conversations with the uInterview podcast!