Reviewing Trump Hotel Lease, Auditor Finds GSA Ignored Violation Of Constitution's Emoluments Clause
An inspector general's report from Wednesday revealed the federal agency that had leased the Trump International Hotel in Washington, D.C. ignored questions regarding the Constitution's restrictions on government-bestowed benefits, or emoluments.
According to the report, the General Services Administration (GSA) concluded its legal team agreed that Trump's election in 2016 raised questions concerning the Trump Organization's lease of the hotel, which was signed in 2013. The Trump International Hotel officially opened two weeks before the 2016 election. Despite reaching this conclusion, the agency did nothing about the issue.
"We found evidence that the term 'emolument' as used historically and today includes the gain from private business activities," the report stated.
Per the U.S. Constitution, federal officials are forbidden from accepting gifts from state or foreign governments. However, many courts have not yet defined what constitutes an illegal emolument. The issue marks the latest one President Donald Trump is engulfed in with regards to whether him and his organization have ever financially benefited from foreign entities since he became president.
Subscribe!
Stay informed on the latest political news.
SLIDESHOW: DONALD TRUMP'S 30 CRAZIEST TWEETS
Last month, New York's attorney general announced the Trump Foundation would be shut down under her office's supervision. The charity was found to have exercised a "shocking pattern of illegality" by unlawfully coordinating spending with Trump's 2016 campaign. It was also revealed in December that Ivanka Trump was allegedly involved in negotiations to secure room rentals for foreign donors at the Trump International Hotel in D.C. The Washington Post reported that Saudi government-funded lobbyists paid for around 500 rooms at the hotel over the course of several weeks following the 2016 election. Also related to this issue is Trump's inaugural committee, which is being investigated for misspending more than $100 million in donations allegedly made by foreign individuals and organizations. Prosecutors are seeking to determine if any of these illicit donations came from Middle Eastern nations like Qatar and Saudi Arabia, with whom Trump and his family have long had business connections.
Both the District of Columbia and the state of Maryland have reportedly filed lawsuits claiming Trump's interest in his Washington hotel violates the Constitution's emoluments clause and that the building is pushing customers away from other similar venues in the area. A federal appeals court is set to decide in the coming moths whether the suit can proceed, and the case could even be heard at the Supreme Court.
According to The New York Times, Trump's family business pays the GSA at least $3 million per year in rent for the Trump International Hotel.
Read more about: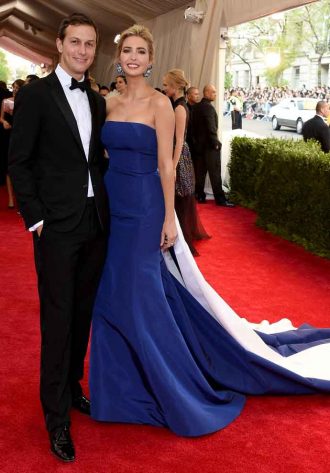 Click here for the 10 Most Powerful Political Couples Slideshow
Listen to the uInterview Podcast!
Get the most-revealing celebrity conversations with the uInterview podcast!