President Donald Trump Proposes Bonuses For Teachers Who Undergo Gun Training
One day after meeting with parents, students and teachers affected by the wave of recent mass shootings and hearing in their call for stricter gun control legislation, President Donald Trump proposed the idea of training and arming a handful of teachers to protect schools in the case of an emergency, an unpopular position among teachers and students but one favored by the National Rifle Association.

Loading ...
On Thursday, the president took to Twitter to blast news outlets for reporting that he had suggested during a White House meeting with survivors of recent mass shootings that teachers who are "highly adept" and "who understand weaponry" be allowed to carry guns in schools. He also suggested that those teachers who do undergo federal training and are allowed to carry firearms in schools be compensated with "a little bit of a bonus" for their trouble.
Ok then pic.twitter.com/QrbZNlZjxN

— Martin Belam (@MartinBelam) February 22, 2018

Subscribe!

Stay informed on the latest political news.
The president's plan to arm and train teachers in defense of their schools remains a popular alternative with members of the NRA and of the president's base, who view the Second Amendment as an integral part of what it means to be an American.
Wayne LaPierre, the executive vice president of the NRA, in a Conservative Political Action Committee (CPAC) speech Thursday night railed against the "opportunists" who he accused of using mass shootings as a means of furthering the left's "socialist agenda."
SLIDESHOW: DONALD TRUMP'S 30 CRAZIEST TWEETS
President Trump also focused on video games, movies and online activity as a root of the issue, saying that the "level of violence on video games is really shaping young people's thoughts" and that "bad things" are happening in their minds.
"We have to do something about maybe what they're seeing and how they're seeing it," he said, before toying with the idea of some kind of rating system that may help to better address the issue. It was unclear, however, if the president simply meant adjusting the system already in place or starting from scratch on an entirely new initiative for rating content.
However, productive steps were made as well, with Trump proposing to raise the legal age to buy a rifle from 18 to 21 as well as putting a ban on bump-stocks, which can be used to make certain weapons fire more rapidly like automatic guns.
The White House also reported that Trump currently supports bipartisan legislation to help make the current background check system function more effectively.
The Justice Department also plans to ask federal prosecutors to prioritize the persecution of individuals who lie on background checks by enforcing a rarely used rule that would make lying a felony charge.
The NRA spent $31 million in the 2016 election, $11,438,118 in support of Trump and another $19,756,346 to oppose Hillary Clinton.
Read more about: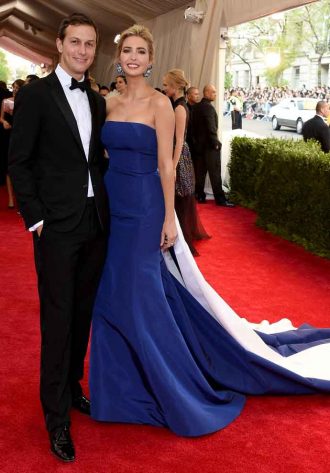 Click here for the 10 Most Powerful Political Couples Slideshow
Listen to the uInterview Podcast!
Get the most-revealing celebrity conversations with the uInterview podcast!