Only 36 Percent Of Americans Would Vote To Re-Elect Trump In 2020 In New Poll
President Donald Trump may not have a particularly strong chance at re-election in 2020, according to a new survey.
New Donald Trump 2020 Re-election Polls Released
A POLITICO/Morning Consult poll released this week found that only 36 percent of voters say they would choose Trump over a Democratic candidate in the next presidential election. The survey said 44 percent of Americans stated they would vote for the Democrat. The other 20 percent said they are undecided. Nearly 2,000 registered voters were surveyed in the poll, conducted last week.
According to a recent Gallup poll, Trump's approval rating as of last Sunday has been around 42% on average each week. That number was even lower (around 35%) earlier in his term, and was even found at one point to have been lower than George W. Bush's approval rating after Hurricane Katrina.
Trump has repeatedly slammed polls about his approval ratings in angry Twitter posts. He has also cited mostly conservative-leaning pollsters like Rasmussen who have given him higher figures as an indicator of his success thus far as president.
Subscribe!
A week of political news in your in-box.
We find the news you need to know, so you don't have to.
Rasmussen just came out at 51% Approval despite the Fake News Media. They were one of the three most accurate on Election Day. Just about the most inaccurate were CNN and ABC News/Washington Post, and they haven't changed (get new pollsters). Much of the media is a Scam!

— Donald J. Trump (@realDonaldTrump) April 17, 2018
The Politico poll also reveals that a growing number of Republicans — possibly moderates — hope a challenger can run against Trump in 2020 for the GOP nomination. The survey also finds that 79 percent of Republican voters would re-elect Trump, while 86 percent of Democrats says they would support a Democratic candidate.
Voters were also asked if they would like to see vice president Mike Pence replace Trump in 2020. Respondents reportedly said they were less interested in a Pence presidency than they were a year ago.
SLIDESHOW: DONALD TRUMP'S 30 CRAZIEST TWEETS
"While nearly four in 10 GOP voters say Donald Trump should face a primary challenge in 2020, no clear challenger has emerged, and Mike Pence's appeal appears to be declining," Kyle Dropp, Morning Consult's co-founder and chief research officer, told Politico. "Today, 64 percent of Republicans say that they would prefer Trump as president, compared to 19 percent who pick Pence. That gap has grown since August 2017, when 58 percent picked Trump and 28 percent picked Pence."
Morning Consult and Politico also released a poll on gun control this week after Friday's shooting at Santa Fe High School in Texas. The survey found that 67 percent of voters favor stricter gun legislation, while 27 percent of voters oppose such laws.
Read more about:
Leave a comment
You must be logged in to post a comment.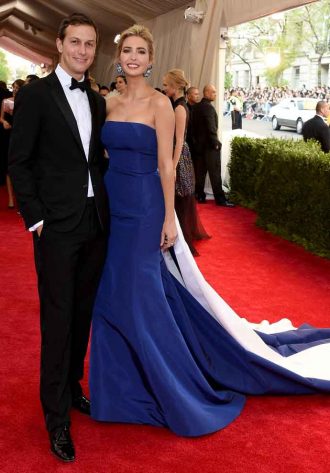 Click here for the 10 Most Powerful Political Couples Slideshow
Listen to the uInterview Podcast!
Get the most-revealing celebrity conversations with the uInterview podcast!