NRA CEO Wayne LaPierre Draws Criticism After Report He Spent $274,000 On Suits At Beverly Hills Zegna Store
Wayne LaPierre, the CEO and executive vice president of the National Rifle Association, is engulfed in another scandal, as his lavish expenses in California were unearthed this week.
According to the Wall Street Journal, LaPierre spent $274,000 on clothes at luxury store Zegna in Beverly Hills from 2004 to 2017. He also reportedly paid more than $18,000 to hire a car and driver in Europe.
Early last year, LaPierre said in an official NRA video: "Elites threaten our very survival, and to them we say: We don't trust you, we don't fear you, and we don't need you. Take your hands off our future."
Many people, including NRA members and other conservatives, were quick to blast LaPierre for his hypocrisy.
Subscribe!
A week of political news in your in-box.
We find the news you need to know, so you don't have to.
One of the most recent and vocal critics of the organization's leader was former Rep. Allen West (R-Florida), an NRA board member who called for a change in the group's leadership.
"There is a cabal of cronyism operating within the NRA and that exists within the board of directors," West, now in his second term on the board, wrote in a statement on his website. "It is imperative that the NRA cleans its own house."
Dear @NRA: I want to thank your CEO Wayne LaPierre for spending $39,000 in Beverly Hills in my district for clothes.

FYI next time there is a @Macys at Beverly Center. I have some 20% off coupons for you. Because you are supposed to be a nonprofit, right?#SaturdayThoughts https://t.co/wHZKi3wjuq

— Ted Lieu (@tedlieu) May 11, 2019
Wayne LaPierre of the @NRA says "America was founded to escape the elites." Yet IS the elite. He's a lobbyist paid $5M per year, and he was reimbursed by his "nonprofit" after spending $500K on suits in Beverly Hills and family vacations – while NRA members foot the bills. https://t.co/5z5OX4lQrk

— Shannon Watts (@shannonrwatts) May 13, 2019
SLIDESHOW: TOP DEMOCRATS RUNNING FOR PRESIDENT IN 2020
Carolyn Meadows, the NRA's new president, appeared to play down the news about LaPierre's lavish spending, calling the uproar over it an example of "petty bickering."
Late last month, Oliver North — a famous figure in the Iran-Contra Affair of the 1980s — stepped down as the NRA's president.
For several months, the NRA — which boasts approximately 5 million members — has been stuck in a dispute with its ad agency, Ackerman McQueen. The gun lobby group is suing the agency, alleging it has failed to be fully transparent in its billing.
Last year, reports came out that the NRA may be "unable to exist" due to its financial issues. The group has become increasingly a target of gun reform advocates in the wake of multiple mass shootings across the country that have taken place at schools, places of worship, shopping centers and other public spaces.
Late-nigh comedian Samantha Bee blasted the NRA on her show Full Frontal last week:
Read more about:
Leave a comment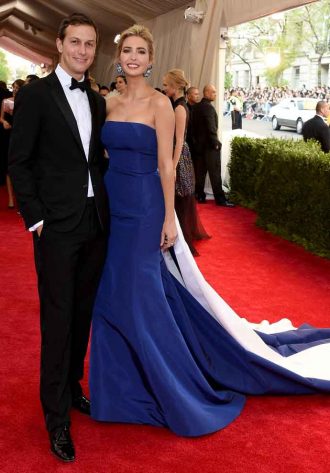 Click here for the 10 Most Powerful Political Couples Slideshow
Listen to the uInterview Podcast!
Get the most-revealing celebrity conversations with the uInterview podcast!