Michael Cohen Took Out $774K In Credit Lines During 2016 Campaign: Was It A Slush Fund?
President Donald Trump's longtime personal lawyer Michael Cohen continues to be the subject of revelations regarding his financial misconduct in recent years.
Michael Cohen Received $774K Credit Line In 2016
According to several reports including in the Wall Street Journal, Cohen received credit lines worth approximately $774,000 during the 2016 campaign. The Journal cited real estate records to show that one credit line was linked to Cohen's apartment in Manhattan, New York.
Reports claim the attorney and fixer gained potential access to $529,000 of those $774,000 through a mortgage he co-signed with his wife for a condominium her parents owned at Trump World Tower in 2015.
SLIDESHOW: DONALD TRUMP'S 30 CRAZIEST TWEETS
Subscribe!
A week of political news in your in-box.
We find the news you need to know, so you don't have to.
The FBI is now reportedly investigating Cohen for bank fraud and other financial crimes. Federal authorities are seeking to determine whether or not he lied about his assets and how he spent his money (if he spent it at all) in order to obtain loans, and also whether or not Cohen made false statements about the use of the money from the loans. Finally, federal authorities have also reportedly been looking into Cohen's ownership of property.
All this has raised questions regarding whether or not Cohen used a slush fund, in other words a reserve of money used for illegal purposes, especially political bribery and extortion.
Late last month, Cohen pleaded the Fifth Amendment in the lawsuit brought by Stormy Daniels. 
The porn star has accused Cohen and Trump of defamation after the pair repeatedly denied reports the former Apprentice star had an affair with Daniels in 2006. Daniels has also claimed the non-disclosure agreement she and Trump reached is invalid because he never signed it. Cohen is being probed for his $130,000 payment in hush money to the porn actress shortly before the 2016 election. That case is being heard in Manhattan.
Rudy Giuliani — one of Trump's lawyers in special counsel Robert Mueller's Russia probe — last week contradicted statements Trump made about Cohen's payment to Daniels. The former New York City mayor and prosecutor told Fox News host Sean Hannity — recently revealed to have also been a client of Cohen's — that Trump knew about the payment and reimbursed Cohen for it in installments.
Trump then said his longtime friend Giuliani would soon "get his facts straight" about the issue involving the payment to Daniels. The FBI raided Cohen's office, home and hotel room on April 9 to take documents related to the payment, including emails exchanged between Trump and his lawyer, as well as other issues.
Read more about:
Leave a comment
You must be logged in to post a comment.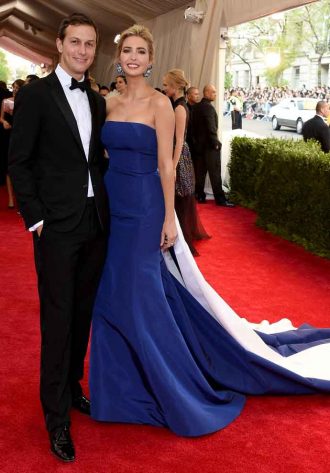 Click here for the 10 Most Powerful Political Couples Slideshow
Listen to the uInterview Podcast!
Get the most-revealing celebrity conversations with the uInterview podcast!