Merrick Garland, Obama's Denied Supreme Court Pick, Could Rule On Whether To Release Trump's Financial Records
Merrick Garland, whom Barack Obama nominated to the Supreme Court in 2016 but was rejected by Senate Republicans, hasn't been making any major news lately, but now he could become a key player in an appeal involving President Donald Trump. 
Garland could rule on the appeal Trump's lawyers filed to counter a federal judge's decision to allow a congressional subpoena from the House Oversight Committee for his financial documents dating back to 2011 to proceed.
Garland, a D.C. Circuit Court judge, was known as a judicial figure who was widely praised by both Democrats and Republicans when Obama appointed him to the Supreme Court in 2016. However, GOP lawmakers led by Sen. Mitch McConnell (R-Kentucky), the Senate majority leader, refused to confirm him as a replacement for Justice Antonin Scalia, who died in February of that year. Garland did not even receive a hearing, as McConnell blocked him from all consideration for the role.
Earlier this month, U.S. District Judge Amit Mehta penned a 41-page opinion that Trump's legal team's arguments in their appeal had "fundamental" issues.
Subscribe!
A week of political news in your in-box.
We find the news you need to know, so you don't have to.
"It is simply not fathomable that a Constitution that grants Congress the power to remove a president for reasons including criminal behavior would deny Congress the power to investigate him for unlawful conduct," Mehta wrote.
In an ironic twist, President Donald Trump's appeal to shield his financial records from congressional subpoenas goes to a court headed by Judge Merrick Garland. pic.twitter.com/00gvQllPXc

— HuffPost (@HuffPost) May 21, 2019
SLIDESHOW: TOP DEMOCRATS RUNNING FOR PRESIDENT IN 2020
After Justice Scalia's death, Sen. Mitch McConnell did something that had never been done: He blocked any consideration of a Supreme Court nominee. President Obama's pick, Merrick Garland, did not get a hearing. #frontlinePBS https://t.co/mjBzszvQu8 pic.twitter.com/jPSfDyzrJ5

— FRONTLINE (@frontlinepbs) May 22, 2019
Deutsche Bank and Capital One are the two banks involved in the subpoenas, as the pair of institutions are where Trump holds many personal or business accounts. The House Oversight Committee said it was seeking to determine whether or not the president violated the Constitution's Emoluments Clause, which prohibits U.S. federal officials from accepting gifts from foreign governments.
Read more about:
Leave a comment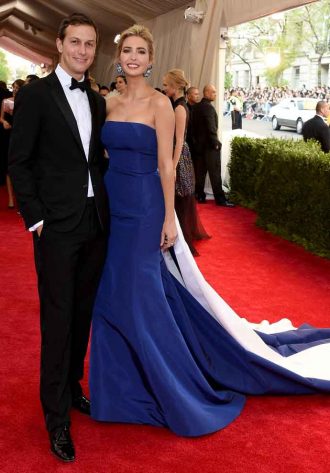 Click here for the 10 Most Powerful Political Couples Slideshow
Listen to the uInterview Podcast!
Get the most-revealing celebrity conversations with the uInterview podcast!