Mark Warner & Other Senators Receive Classified Briefings On UFO Sightings
Three U.S. senators on Wednesday received classified Pentagon briefings regarding alleged Navy encounters with unidentified flying objects.
The development follows an increasing number of requests from lawmakers belonging to several oversight committees.
UFO News
A spokesperson for Sen. Mark Warner (D-Virginia), one of the lawmakers in question, told Politico in a statement that the news of potential UFOs draws "safety" concerns.
"If naval pilots are running into unexplained interference in the air, that's a safety concern Senator Warner believes we need to get to the bottom of," said Warner's spokesperson, Rachel Cohen.
Subscribe!
A week of political news in your in-box.
We find the news you need to know, so you don't have to.
SLIDESHOW: TOP DEMOCRATS RUNNING FOR PRESIDENT IN 2020
Clearwater United States 2011-03-20 case:https://t.co/QLWGpRrEVU download:https://t.co/ExqgRd1ngL
? ? ? ? ?#UFO#UFOs#aliens#OVNI
???
news
via multistagecorre?
archive on https://t.co/j3cxdxJERE pic.twitter.com/szKjHTfTlI

— UFO CASE ALIEN (@multistagecorre) June 20, 2019
Earlier this week, President Donald Trump told ABC's George Stephanopoulos in an interview that he doesn't "particularly believe" Navy reports of UFO sightings.
"I want them to think whatever they think," Trump said of Navy pilots.
The federal government has paid closer attention to "unidentified aerial phenomena" over the last two years, especially after former Sen. Harry Reid (D-Nevada) requested the Pentagon analyzed the subject more in depth.
Advocates for more research and analysis on unidentified aircrafts say they hope that Congress will demand the Department of Defense compile more data garnered from satellites.
The growing interest in UFOs also comes as the United States is locked in increasing tensions with Iran, whom it accused this month of an attack on two oil and chemicals tankers in the Gulf of Oman. The revelation Thursday morning that Iran shot down a U.S. drone over the Strait of Hormuz also further escalated tensions.
"This is a significant and dangerous provocation": @ABC News' @MarthaRaddatz has the latest as Iran shoots down a U.S. drone. https://t.co/Stnr55VKXk pic.twitter.com/nAB5Q3AfTI

— ABC News (@ABC) June 20, 2019
Read more about:
Leave a comment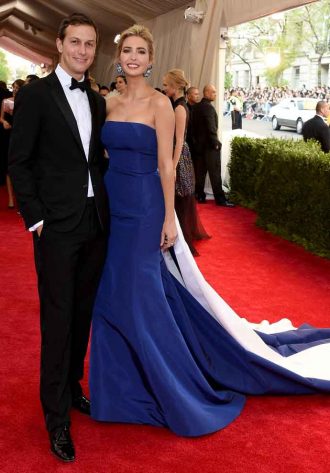 Click here for the 10 Most Powerful Political Couples Slideshow
Listen to the uInterview Podcast!
Get the most-revealing celebrity conversations with the uInterview podcast!