James Comey Blasts 'Shameful' House Republicans For Not Condemning Trump's Attacks On FBI
On Monday, former FBI Director James Comey blasted Republicans for not denouncing President Donald Trump's attacks on the bureau after a second round of questioning in a closed-door congressional interview.
Comey specifically targeted GOP members of the House Oversight and Judiciary Committees, which  interviewed him for nearly six hours Monday.
"Somebody has to stand up and speak for the FBI," Comey told reporters after his interview. "People who know better, including Republican members of this body, have to have the courage to stand up and speak the truth, not be cowed by mean tweets or fear of their base. There is a truth and they're not telling it. Their silence is shameful."
Comey, a known conservative, has spoken up against Trump and the Republican Party before. Earlier this year, he compared the president to a "mob boss" and urged voters to support Democrats in the midterm elections.
The Committees on Monday interrogated Comey on the FBI's handling of the inquiry into Hillary Clinton's emails in 2016 as well as the Russia probe. Special Counsel Robert Mueller has already produced several charges, guilty pleas and indictments in the investigation.
"The FBI's reputation has taken a big hit because the President of the United States has lied about it constantly," Comey stated Monday.
So where are all the missing Text messages between fired FBI agents Peter S and the lovely Lisa Page, his lover. Just reported that they have been erased and wiped clean. What an outrage as the totally compromised and conflicted Witch Hunt moves ever so slowly forward. Want them!

— Donald J. Trump (@realDonaldTrump) December 16, 2018
SLIDESHOW: DONALD TRUMP'S 30 CRAZIEST TWEETS
The former director also defended his decision in early 2017 to refuse Trump's requests for Comey to say publicly that he was not being investigated. Trump fired Comey in May 2017.
According to CNN, Comey also lambasted Trump for calling his former personal lawyer Michael Cohen a "rat." Last month, Cohen flipped on the president for a second time after admitting to lying to Congress about his involvement in a Trump Tower deal in Moscow in 2016. The "fixer' was sentenced last week to three years in prison for several charges including bank and tax fraud and campaign finance violations.
Remember, Michael Cohen only became a "Rat" after the FBI did something which was absolutely unthinkable & unheard of until the Witch Hunt was illegally started. They BROKE INTO AN ATTORNEY'S OFFICE! Why didn't they break into the DNC to get the Server, or Crooked's office?

— Donald J. Trump (@realDonaldTrump) December 16, 2018
Biggest outrage yet in the long, winding and highly conflicted Mueller Witch Hunt is the fact that 19,000 demanded Text messages between Peter Strzok and his FBI lover, Lisa Page, were purposely & illegally deleted. Would have explained whole Hoax, which is now under protest!

— Donald J. Trump (@realDonaldTrump) December 18, 2018
"This is the President of the United States calling a witness, who has cooperated with his own Justice Department a rat," said Comey. "We have to stop being numb to it; whether you're Republican or Democrat, stand on your feet, overcome your shame and say something."
Many Republican lawmakers remain adamant in their position that Comey and the FBI significantly mishandled many issues including the probe into Clinton's emails and investigations into former Trump associates like Michael Flynn and their contacts with Russia.
"I think that the knowledge of when the FBI and specifically Director Comey became aware of the involvement of the DNC, Perkins Coie, Fusion GPS as it relates to their hiring of Christopher Steele, the whole FISA application," said North Carolina GOP Rep. Mark Meadows, the chairman of the House Freedom Caucus who earlier this month was considered a candidate to become the next White House chief of staff. "At what point did he become aware of that?"
Comey fired back by once again defending the bureau's decision to interview Flynn, as well as its call to not inform then-acting Attorney General Sally Yates of this meeting in advance.
"Oh come on. Think about what's happening in the Republican Party," said Comey. "They're up here, attacking the FBI's investigation of a guy who [pleaded] guilty to lying to the FBI. I'm very proud of the way the FBI conducted itself."
Read more about: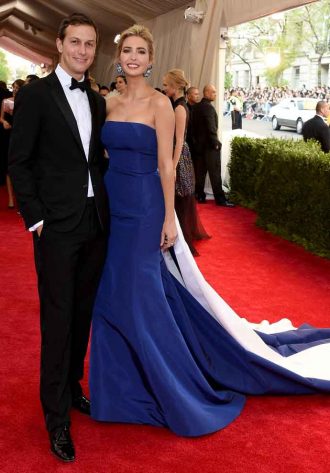 Click here for the 10 Most Powerful Political Couples Slideshow
Listen to the uInterview Podcast!
Get the most-revealing celebrity conversations with the uInterview podcast!