EPA Administrator Scott Pruitt Grilled On Ethics Violations By House Committee [VIDEO]
Scott Pruitt, the embattled administrator of the Environmental Protection Agency, testified before Congress on Thursday to answer questions about allegations against him that include multiple ethics violations and extravagant expenses.
Scott Pruitt Testifies On Capitol Hill
Among the long list of scandals Pruitt is embroiled in is spending more than $43,000 on a soundproof phone booth, paying $50 per night to rent a room at a luxury townhouse on Capitol Hill that is linked to an energy lobbying firm and hiring an opposition researcher. Pruitt — a longtime opponent of the EPA that sued the agency several times before being named to lead it — also allegedly approved raises for several agency employees and fired scientists from the EPA advisory boards without notice.
Pruitt has given several television interview with major cable news networks, including one on Fox News in which he deflected questions about the pay raises he is accused of approving for EPA staffers. He claimed he had no idea who approved the salary increases, after being pressed by the interviewer.
Subscribe!
A week of political news in your in-box.
We find the news you need to know, so you don't have to.
SLIDESHOW: DONALD TRUMP'S 30 CRAZIEST TWEETS
Despite these many scandals, President Donald Trump has stood by Pruitt. 
On Thursday, one Democratic Congresswoman told Pruitt she believed he should step down from his position.
"I'm going to say it to you clearly and straight to you because I think you deserve that," said Rep. Betty McCollum of Minnesota. "But Mr. Pruitt, I think it's time that you resign."
Congresswoman: "Mr. Pruitt i think it's time you resign." https://t.co/r50AUxktEA

— Meg Wagner (@megwagner) April 26, 2018
Pruitt claimed in Thursday's meeting with lawmakers that he was threatened several times, more often, he said, than his predecessors at the EPA. He said some of them were death threats made on Facebook.
"Pruitt I'm going to find you and put a bullet between your eyes," read part of one of the threats. "Don't think I'm joking. I'm planning this."
McCollum also slammed the EPA's budget for 2019, calling it "irresponsible and unrealistic."
According to CNN, EPA officials were surprised by Pruitt's confession of having authorized pay increases to agency employees.
"I was not aware of the amount," EPA chief Scott Pruitt says when asked whether he knew about the pay raises for agency aides https://t.co/T3o3gVZHwM https://t.co/ABUclh2o2X

— CNN Politics (@CNNPolitics) April 26, 2018
Pruitt was also discovered to have traveled in first class for several international flights, and when asked on Thursday if he would repay American taxpayers for these hefty expenses, the EPA head refused to answer the question directly and explicitly.
Scott Pruitt was just asked if he plans to reimburse tax payers for his travel upgrades. Watch his exchange with the congresswoman. https://t.co/MQYL9tV51q

— Meg Wagner (@megwagner) April 26, 2018
Pruitt was also asked about California's strict car emissions standards. Asked if he planned to revoke these emissions, Pruitt said his agency does not currently have any intentions of doing this.
Several protesters were also sitting just several rows behind Pruitt holding signs and yelling out condemnations of the EPA chief. They were told to remain quiet and put down their signs, but were not thrown out of the room, CNN reported.
Read more about:
Leave a comment
You must be logged in to post a comment.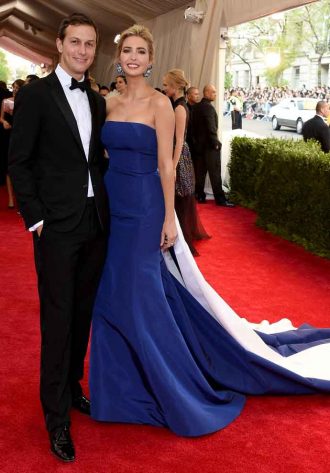 Click here for the 10 Most Powerful Political Couples Slideshow
Listen to the uInterview Podcast!
Get the most-revealing celebrity conversations with the uInterview podcast!