California Gov. Gavin Newsom Says GOP Is Heading Toward "Waste Bin Of History"
California Gov. Gavin Newsom (D) had some strong words for today's Republican Party in a series of remarks early Monday.
The former San Francisco mayor, a vocal critic of President Donald Trump, went after the GOP and Fox News, saying the fear-mongering rhetoric they perpetuate is not in tune with the times.
"America in 2019 is California in the 1990s," Newsom told Politico. "The xenophobia, the nativism, the fear of 'the other.' Scapegoating. Talking down or past people. The hysteria. And so, we're not going to put up with that. We are going to push back."
Newsom specifically aimed his criticism at Fox News host Tucker Carlson, who often singles out California in his reports.
Subscribe!
A week of political news in your in-box.
We find the news you need to know, so you don't have to.
"If it's not this, it's ten other things,'' he said. "If I'm going to be worried about Donald Trump's feelings and Tucker Carson's feelings and Fox News' feelings, then I won't be taking care of the people in this state,'' he adds. "I won't be doing justice to millions and millions of Californians who will benefit from our health care expansions, the biggest expansion [to benefit] the middle class – something no one thought was achievable few years back."
SLIDESHOW: TOP DEMOCRATS RUNNING FOR PRESIDENT IN 2020
Like many previous California governors, Newsom believes what occurs in the state gives a relatively strong indication of what the United States as a whole will deal with in the coming years.
Newsom's biggest rebuke of the Trump-era GOP came when he said the party's lawmakers "are into the politics of what California was into in the 1990s..and they'll go the same direction — into the waste bin of history, the way Republicans of the '90s have gone. That's exactly what will happen to this crop of national Republicans."
Every day in America, 100 lives are lost to gun violence. Every year, 3 million children witness that violence.

It doesn't have to be this way. It's time to step up. Hold elected officials accountable — and end the @NRA's death grip on our laws.#NationalGunViolenceAwarenessDay pic.twitter.com/Uetvp2f7Oq

— Gavin Newsom (@GavinNewsom) June 7, 2019
Newsom recently sparred with Trump on the facts regarding an infrastructure deal in California.
Read more about:
Leave a comment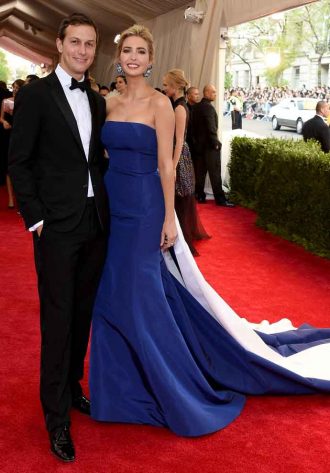 Click here for the 10 Most Powerful Political Couples Slideshow
Listen to the uInterview Podcast!
Get the most-revealing celebrity conversations with the uInterview podcast!