Acting Attorney General Matt Whitaker Says He Wants To Stop Russia Probe, Called CNN Appearance "Audition" For Trump
Acting Attorney General Matt Whitaker has a history of attacking special counsel Robert Mueller's Russia investigation, according to several reports.
Whittaker, a former U.S. Attorney in Iowa, replaced Jeff Sessions to lead the Justice Department after the former Alabama Senator resigned on Wednesday. Sessions was known for being the object of intense scorn by President Donald Trump in recent months, among other reasons because of his recusal from Mueller's inquiry in early 2017.
Whittaker, 49, has repeatedly sought to undermine Mueller's probe into Russian interference in the 2016 election and potential collusion between Moscow and Trump campaign officials.
In an appearance on CNN in June 2017, Whittaker said he believes there is "certainly" a way for Trump to fire Mueller without obstructing justice.
"Well, what I see is a President that is starting to figure out his influence that he can have on this investigation," Whittaker said at the time. "And someone that is trying to send a message to the special prosecutor, Bob Mueller, that listen, you have a lot of power and you are now the keeper of the cloud that hangs over this administration, unfortunately, but I can still affect you. I can reach out and if I want to, I can terminate you. I think that is very dangerous politically, but legally there is certainly a way for that to happen."
Don Lemon responded to Whittaker by saying, "You don't think that's dangerous legally, it's not obstruction?"
Whittaker countered, "No, I don't think that's obstruction, because—we keep using that term. And I know we have discussed it before, Don. But I just – I don't think that under these facts and circumstances that an obstruction of justice charge, either in the context that we have originally talked about with his discussions with Jim Comey or in this new context of talking about the possibility of Bob Mueller losing his job as special counsel, I think neither one of those would raise to the level of obstruction."
SLIDESHOW: DONALD TRUMP'S 30 CRAZIEST TWEETS
Whittaker also served as campaign chairman in 2014 for Sam Clovis, who that year was running for state treasurer in Iowa. According to CNN, Clovis — the 2016 Trump campaign national co-chairman — encouraged Whittaker to land a regular job as a commentator on television. Whittaker told told one GOP operative that CNN was as a sort of "audition" in order to be noticed by Trump. Whittaker was ultimately hired by CNN as a legal commentator last year, although he left that post in September 2017 and began working as chief of staff to Sessions at the Justice Department.
Trump eventually watched Whittaker on CNN and the pair met in person.
Several top Democrats, including House Minority Leader Nancy Pelosi and New York Sen. Chuck Schumer, have criticized Whittaker for attacking Mueller's probe and called for him to recuse himself from the special counsel's investigation. Whittaker even wrote an op-ed for CNN.com, which was published in August 2017, to blast the Russia inquiry.
Given his record of threats to undermine & weaken the Russia investigation, Matthew Whitaker should recuse himself from any involvement in Mueller's investigation. Congress must take immediate action to protect the rule of law and integrity of the investigation. #FollowTheFacts

— Nancy Pelosi (@NancyPelosi) November 7, 2018

"Given his previous comments advocating defunding and imposing limitations on the Mueller investigation, Mr. Whitaker should recuse himself from its oversight for the duration of his time as acting attorney general," Schumer said in a statement.
"Clearly, the President has something to hide," Schumer later tweeted.
Read more about: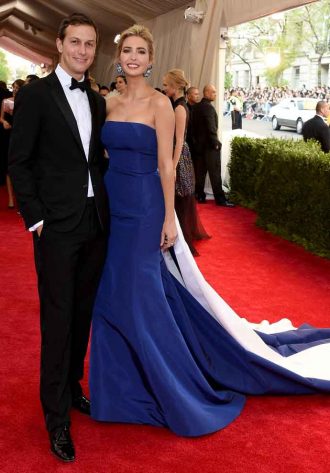 Click here for the 10 Most Powerful Political Couples Slideshow
Listen to the uInterview Podcast!
Get the most-revealing celebrity conversations with the uInterview podcast!