WATCH: Trump Tells Reporter – 'Don't Talk To Me That Way, I'm The President Of The United States!'
On Thanksgiving, President Donald Trump held a disastrous pool spray at the White House, where questions about President-elect Joe Biden and whether or not he would concede the election pushed him over the edge.
"If the electoral college votes for Joe Biden, will you concede?" Reuters' White House correspondent Jeff Mason asked the president.
50 Best Photos Of The Year 2020
"If they do, they've made a mistake," Trump replied, explaining for the second time during the event that the election was a "massive fraud," and that the United States is "like a third world country."
Subscribe!
Stay informed on the latest political news.
When Mason interrupted Trump's unfounded claims of how voter fraud cost him the election, Trump turned on the reporter in a display reminiscent of his time on reality television show, The Apprentice.
"Don't talk to me that way," Trump yelled. "You're just a lightweight. Don't talk to – I'm the President of the United States. Don't ever talk to the president that way." He then stated he wanted to move onto another question and did not give Mason another chance to speak.
Although he declined any more questions regarding fraud and his concession from Mason, other reporters had the same questions for the president. When one asked if he would plan on leaving the White House if the electoral college selects Biden as the winner, he replied, "Certainly," despite saying he would not concede earlier in the pool spray, and then continued to provide baseless claims for why he lost the election.
"We've caught hundreds of thousands of votes," he said. Reporters attempted to interject and tell him that this was proven to be untrue, but Trump ignored them and said that he lost because "sacred" poll-watchers were "put… in pens," rather than able to monitor the polls.
The catastrophic pool spray was the first interaction with reporters that Trump has had since it was confirmed that he lost the election to Biden weeks ago.
Read more about: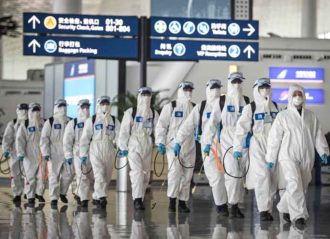 Click here for the 50 Best Photos Of The Year 2020 Slideshow
Listen to the uInterview Podcast!
Get the most-revealing celebrity conversations with the uInterview podcast!