WATCH: Trump Says He'll Leave White House If Electoral College Confirms Biden Victory
At a White House pool spray on Thursday, President Donald Trump announced that if the Electoral College confirms President-Elect Joe Biden as the winner of the 2020 election, he will leave the White House on Inauguration Day, but might not concede entirely.
"Certainly I will," Trump said to a reporter when she asked if he would leave the White House. "And you know that." He then said that if the Electoral College did vote for Biden, that they would have "made a mistake," and that it would be "a very hard thing to concede." This is the first time Trump has made any show of acknowledging that he lost the election.
"I don't know what is going to happen," he said. "I know one thing: Joe Biden did not get 80 million votes." He then claimed that he must have earned over 74 million votes, and then asserted that there was "massive fraud" and that votes for him had been discarded during the election process.
50 Best Photos Of The Year 2020
Subscribe!
A week of political news in your in-box.
We find the news you need to know, so you don't have to.
While Trump stands firmly behind these claims, almost all of his legal battles in swing states have failed.
Trump also shared with reporters that he might not attend the Inauguration, despite it being a traditional display of unity between presidents of the past, but that he would campaign for a runoff election for senators in Georgia on December 5.
Read more about:
Leave a comment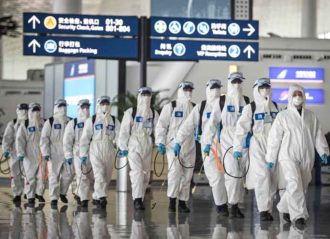 Click here for the 50 Best Photos Of The Year 2020 Slideshow
Listen to the uInterview Podcast!
Get the most-revealing celebrity conversations with the uInterview podcast!