Tennessee Rep. Diane Black Proposes Crowdfunding Trump's Border Wall
President Donald Trump ran for the White House on the promise of building a "big, beautiful wall" along the U.S.-Mexico border. While Trump has yet to provide this wall, Tennessee Rep. Diane Black took matters into her own hands and proposed a crowdfunding campaign to get it.
It was reported in January that the Trump Administration had intended to ask for $18 billion to build the border wall – a long way from Trump's initial insistence that Mexico would pay for it. Seeing as these funds did not appear, citizens now could have the opportunity to donate directly to what Black called a "border wall trust fund" overseen by the Treasury Department. Any wall-supporters would be able to donate any amount of money designated for "whatever it takes to build the wall."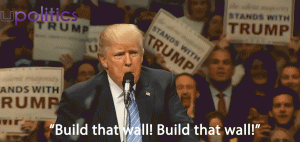 Black believes that true immigration reform is impossible without a "secure border" and said the American people should have the opportunity to contribute to their safety and security. She likened crowdfunding for the border wall to the use of private donations to build the Washington Monument in 1833. However, according to the National Park Service, the construction of the Washington Monument was halted for more than two decades when money ran out until Congress completed the project.
Subscribe!
A week of political news in your in-box.
We find the news you need to know, so you don't have to.
RJ Hauman, the government relations director of the Federation for American Immigration Reform (FAIR), told Fox News that the bill "would provide a unique funding source for the president's signature campaign compromise." He blames Democrats for the lack of border funding thus far.
Should the bill be passed, Black said she and her husband will be the first to donate.
Read more about:
Leave a comment
You must be logged in to post a comment.
Listen to the uInterview Podcast!
Get the most-revealing celebrity conversations with the uInterview podcast!