Supreme Court Allows Donald Trump's Transgender Military Ban To Go Into Effect
President Donald Trump had proposed a ban on transgender individuals from joining the military in 2018, something the LGBTQ community and its activists derided. The Trump administration policy, a reversal of an Obama-era one, was thereafter challenged in four lower courts, all of which sided against it and blocked the policy.
However, in a 5-to-4 ruling, the Supreme Court allowed the ban to temporarily go into effect on Tuesday, restricting transgender people from serving. The four liberal justices voted against the proposition. However, the ban will not go into effect immediately, as the Supreme Court is waiting for the 9th Circuit Court of Appeals to voice its opinion. Lower courts will have the ability to appeal this restriction.
This ban will affect those diagnosed with gender dysphoria from serving with rare exceptions. Gender dysphoria is defined by the American Psychiatric Association as involving "a conflict between a person's physical or assigned gender and the gender with which he/she/they identify. People with gender dysphoria may be very uncomfortable with the gender they were assigned, sometimes described as being uncomfortable with their body (particularly developments during puberty) or being uncomfortable with the expected roles of their assigned gender."
SLIDESHOW: DONALD TRUMP'S 30 CRAZIEST TWEETS
Subscribe!
Stay informed on the latest political news.
Carla Gleason, a Pentagon spokeswoman, issued a statement after the decision, insisting this is not intended to be an act against the transgender community. "The department is pleased with the orders issued by the Supreme Court today," Gleason said. "We will continue to work with the Department of Justice regarding next steps in the pending lawsuits. As always, we treat all transgender persons with respect and dignity."
Continuing, Gleason explains how this policy "is NOT a ban on service by transgender persons," adding, "It is critical that DoD be permitted to implement personnel policies that it determines are necessary to ensure the most lethal and combat effective fighting force in the world. DoD's proposed policy is based on professional military judgment and will ensure that the U.S. Armed Forces remain the most lethal and combat effective fighting force in the world."
The Supreme Court's decision was met negatively by many. House Speaker Nancy Pelosi tweeted out how this policy intentionally seeks to "humiliate brave men & women seeking to serve their country."
.@realDonaldTrump's ban on trans Americans serving in our nation's military was purpose-built to humiliate brave men & women seeking to serve their country. Deeply concerning that #SCOTUS is allowing his ban to proceed for now. #ProtectTransTroops https://t.co/PgtEJJVHvX

— Nancy Pelosi (@SpeakerPelosi) January 22, 2019
Read more about: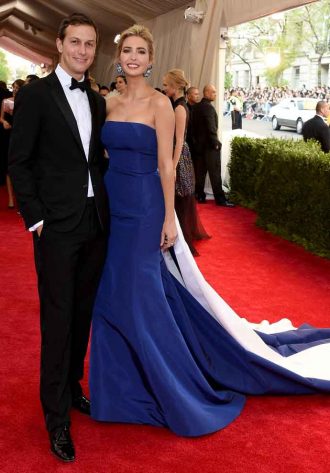 Click here for the 10 Most Powerful Political Couples Slideshow
Listen to the uInterview Podcast!
Get the most-revealing celebrity conversations with the uInterview podcast!