Roy Moore, Alabama Judge Accused Of Sexual Misconduct, Running For Senate In 2020 Despite Strong Trump Opposition
Roy Moore, the controversial Republican former Alabama judge who was accused of sexually harassing dozens of young girls, announced Thursday he launch a second Senate campaign in 2020 despite strong opposition from within his own party.
Even President Donald Trump recently advised 72-year-old Moore not to run for Senate next year. Moore previously ran for the U.S. Senate in Alabama in 2017 but lost to Democratic former U.S. Attorney and prosecutor Doug Jones. Moore contested the results of that special election and never officially conceded his loss. Several women had alleged Moore had sexually harassed or assaulted them when they were teenagers, and he denied the claims.
"The people of Alabama are not only angry, but they're going to act on that anger," Moore, a former chief justice of the State Supreme Court, said in Montgomery on Thursday. "The people of Alabama are tired of politicians saying one thing and doing another."
Roy Moore announces he will run again for US Senate seat in Alabama: "Can I win? Yes, I can win. Not only can I, they know I can. That's why there's such opposition" https://t.co/GmKtDI1I7a pic.twitter.com/4CjcRkCMS6

Subscribe!

A week of political news in your in-box.
We find the news you need to know, so you don't have to.

— CNN Politics (@CNNPolitics) June 20, 2019
Moore added he feared Senate Republicans and several other prominent conservatives in Washington would likely try to mount a "smear campaign" against him. The former judge lost to Jones by 21,924 votes in 2017 after the latter earned strong support from female and minority Alabama residents. Jones' victory was historic because he became the first Alabama Democrat elected to the Senate in 25 years.
SLIDESHOW: TOP DEMOCRATS RUNNING FOR PRESIDENT IN 2020
Moore, a former district attorney in Alabama, is a religious man who has vehemently opposed same-sex marriage and who has made controversial statements about Islam and the 9/11 terror attacks.
Roy Moore, who lost Alabama Senate race after allegations of sexual misconduct, announces another run for US Senate. pic.twitter.com/jWsX372OF1

— MSNBC (@MSNBC) June 20, 2019
…If Alabama does not elect a Republican to the Senate in 2020, many of the incredible gains that we have made during my Presidency may be lost, including our Pro-Life victories. Roy Moore cannot win, and the consequences will be devastating….Judges and Supreme Court Justices!

— Donald J. Trump (@realDonaldTrump) May 29, 2019
Trump's eldest son Donald Trump Jr. also blasted Moore for his decision to seek a second Senate bid.
"It's time to ride off into the sunset, Judge," he wrote.
You mean like last time? You're literally the only candidate who could lose a GOP seat in pro-Trump, pro-USA ALABAMA. Running for office should never become a business model. If you actually care about #MAGA more than your own ego, it's time to ride off into the sunset, Judge. https://t.co/Twg9isFRkY

— Donald Trump Jr. (@DonaldJTrumpJr) May 28, 2019
Read more about:
Leave a comment
You must be logged in to post a comment.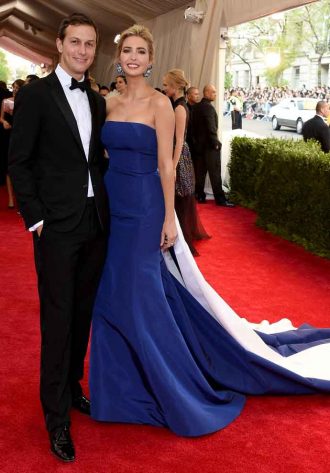 Click here for the 10 Most Powerful Political Couples Slideshow
Listen to the uInterview Podcast!
Get the most-revealing celebrity conversations with the uInterview podcast!