Trump Laments Loss Of GOP Momentum After Attempted Bombings & Pittsburgh Synagogue Shooting
President Donald Trump lamented the Republican Party's loss of momentum going into Tuesday's midterms, as media coverage shifted away from the political sphere in the wake of last month's attempted bombing of several prominent Democrats and the deadly Pittsburgh synagogue shooting.
"We did have two maniacs stop a momentum that was incredible, because for seven days nobody talked about the elections," Trump said on Thursday at a campaign rally in Missouri.
"More importantly, we have to take care of our people, and we don't care about momentum when it comes to a disgrace like just happened to our country," the president added, though he quickly confused the point by saying, "It did nevertheless stop a certain momentum, and now the momentum is picking up."
Trump had aired similar grievances against the media's distraction from his political agenda last week in a tweet, saying, ""Republicans are doing so well in early voting, and at the polls, and now this 'Bomb' stuff happens and the momentum greatly slows — news not talking politics."
Subscribe!
A week of political news in your in-box.
We find the news you need to know, so you don't have to.
In the tweet, he also urged Republican voters to run to the polls despite the dip in news coverage.
Republicans are doing so well in early voting, and at the polls, and now this "Bomb" stuff happens and the momentum greatly slows – news not talking politics. Very unfortunate, what is going on. Republicans, go out and vote!

— Donald J. Trump (@realDonaldTrump) October 26, 2018
Notably, President Trump use of quotes around the word bomb in his tweet echo the skepticism held by many other leading GOP politicians and media leaders over the motive behind the attempted bombing of over a dozen Democratic politicians and activists, including Former President Barack Obama and Former Secretary of State Hillary Clinton.
Authorities made an arrest regarding the alleged bomber, Cesar Sayoc Jr., last week. He faces a sentence of up to 48 years if convicted of all crimes.
The president voiced his opinion of Robert Bowers, the man arrested for killing 11 last week in a mass shooting at the Tree of Life synagogue in Pittsburgh, saying that the "wacko" should receive the death penalty.
Roughly 2,000 people showed up in protest on Tuesday when the president, along with his wife, Melania, daughter Ivanka and son-in-law Jared Kushner went to pay their respects to those who lost their lives in the most recent mass shooting.
The protesters, many of whom were Jewish locals, held signs reading, "Words have meaning," and "We build bridges not walls."
SLIDESHOW: DONALD TRUMP'S 30 CRAZIEST TWEETS
In the aftermath of last week's arrests, the president's approval rating has fallen by 14 points, down to 40 percent. Many attribute this fall to Trump's tone deaf reaction to the shooting.
Read more about:
Leave a comment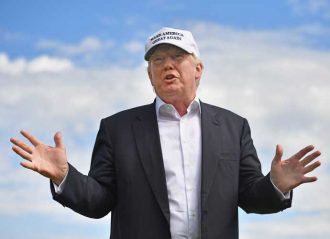 Click here for the Donald Trump's 30 Craziest Tweets Slideshow
Listen to the uInterview Podcast!
Get the most-revealing celebrity conversations with the uInterview podcast!