Rep. Rashida Tlaib Refuses Israeli Permission To Visit After Initial Rejection
On Friday morning, Rep. Rashida Tlaib (D-Michigan) announced that she would not accept an Israeli offer to visit the country in order to visit her grandmother, who resides in Beit Ur al-Fauqa in the Israeli-occupied West Bank.
Tlaib and her colleague Rep. Ilhan Omar (D-Minnesota) declined to join a 70 person congressional delegation to Israel last week, opting instead for a more independent tour of the region to take place this week. However, Israeli authorities prevented the two from obtaining visas for their visit, citing their support for the Boycott, Divest, and Sanction, or BDS, movement, which aims to pressure Israel to end the occupation of the West Bank and East Jerusalem. The trip was intended as a 'fact-finding mission' with the purpose of learning how Trump administration cuts to Palestinian aid have impacted Palestinian society.
In July, Israeli Ambassador Ron Dermer indicated that the two congresswomen would be granted visas and allowed into the country: "Out of respect for the U.S. Congress and the great alliance between Israel and America, we would not deny entry to any member of Congress into Israel." That tune changed quickly after a tweet from the Oval Office in which Trump strongly urged Israel to block the two from visiting, remarking that it would show "great weakness" if Israel allowed Tlaib and Omar, whom Trump believes "hate Israel & all Jewish people", to visit the Jewish state. The Netanyahu government quickly aligned itself with the desires of its US counterpart and banned the two from visiting.
It would show great weakness if Israel allowed Rep. Omar and Rep.Tlaib to visit. They hate Israel & all Jewish people, & there is nothing that can be said or done to change their minds. Minnesota and Michigan will have a hard time putting them back in office. They are a disgrace!

Subscribe!

Stay informed on the latest political news.

— Donald J. Trump (@realDonaldTrump) August 15, 2019
On Friday, the Israeli Interior Ministry guaranteed permission for Tlaib to visit her grandmother if she requested a humanitarian visa and agreed not to speak publicly about her views while in Israel or Palestine.
A law passed in the Knesset two years ago allows the state to ban supporters of the BDS movement from visiting Israel or Palestine. The law has been strongly criticized, even by those opposed to BDS, as anti-democratic and in opposition to free speech. 
Tlaib, who is one of the first two Muslim women to serve in Congress, released a statement in which she sharply criticized her treatment by Israeli authorities, saying that they are "silencing me & treating me like a criminal."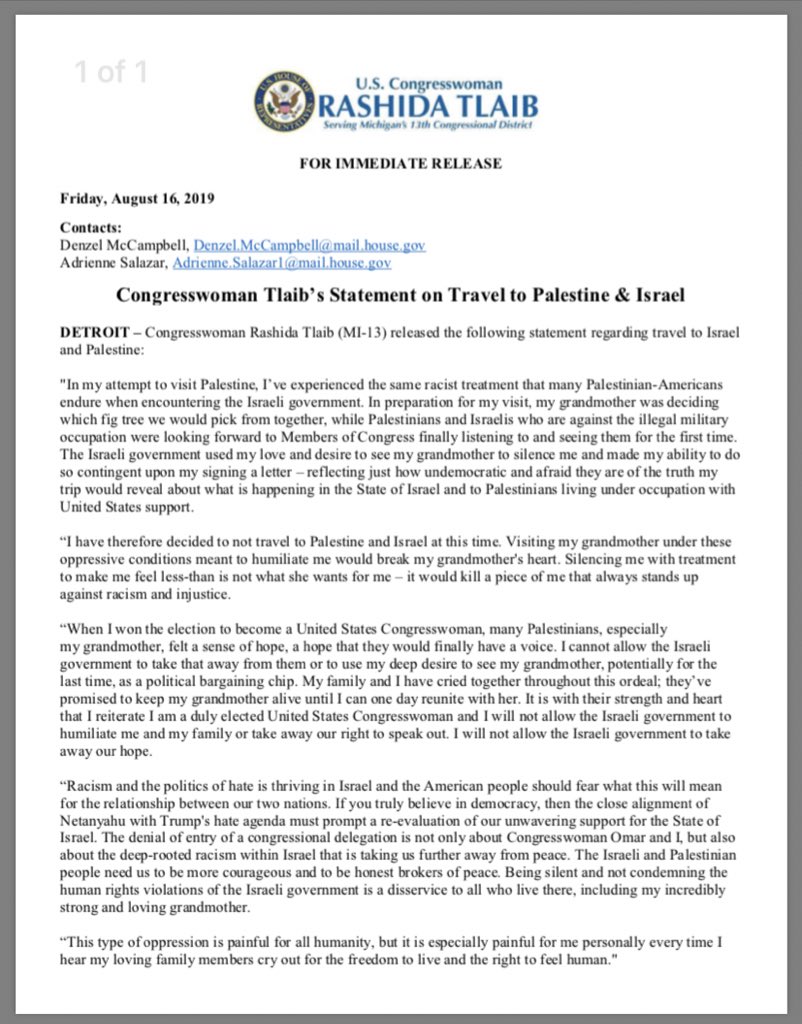 Read more about:
Listen to the uInterview Podcast!
Get the most-revealing celebrity conversations with the uInterview podcast!