New Government Climate Change Study Says Higher Global Temperatures Could Cost 10% Of U.S. GDP
A new climate report released on Friday takes a different angle in confronting the problem of climate change, as it detailed the dire financial consequences the country will face if climate change is not confronted.
The Fourth National Climate Assessment estimates that climate change could cost the economy hundreds of billions of dollars by 2100. In the worst case scenario, the report claims that run-away climate change could cause the country to lose 10 percent of its total GDP.
Most of the damage the changing climate will cause comes in the form of extreme heat, droughts and flooding, factors that scientist claim will take a heavy toll on the agricultural industry.
Farmers in the Midwest are projected to lose 75 percent of their current corn crop yields and 25 percent of their annual soybean production.
Subscribe!
A week of political news in your in-box.
We find the news you need to know, so you don't have to.
SLIDESHOW: DONALD TRUMP'S 30 CRAZIEST TWEETS
Dairy farmers will begin to face almost immediate changes in output, as the report claims that they will see a 0.60 to 1.35 percent decrease in average dairy production over the next 12 years due to heat stress.
Heat stress has already cost dairy farmers $1.2 billion in lost production in 2010.
Ocean acidification due to climate change will also affect the fishing industry, as shellfish populations, which are already in decline, will decrease rapidly by 2100, costing the industry an estimated $230 million.
Moreover, red tide phenomenon, red algae blooms that caused Florida to declare a state of emergency in August, will become all the more common as ocean conditions deteriorate.
Increasing temperatures will also cause an explosion in mosquito and tick borne diseases like Zika, West Nile, and dengue fever. Cases of West Nile Virus alone are expected to more than double in the next few decades.
The rash of wildfires that have burned through vast swathes of California and other parts of the world will also become more common as the climate gets hotter. Future fires could burn more forested land than ever before, with droughts and increasing temperatures expanding their range sixfold by 2050.
An estimated $1 trillion in infrastructure and real estate will be threatened by the expanded wildfire range.
This report was compiled by the US Global Change Research Program, a climate research team made up of 13 federal agencies. Over 1,000 researchers, analysts and government workers helped put the assessment together.
The details of the report stand in stark contrast to President Donald Trump's claims that climate change is a hoax made up to threaten American jobs.
But the financial angle of this report, something Trump has shown to be more receptive to, could change the president's mind.
Read more about:
Leave a comment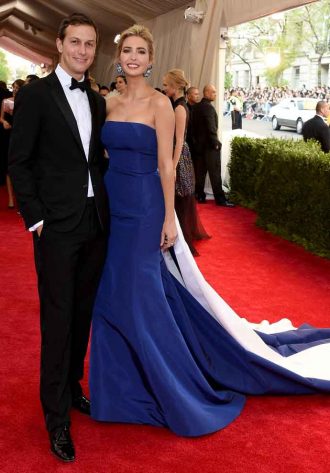 Click here for the 10 Most Powerful Political Couples Slideshow
Listen to the uInterview Podcast!
Get the most-revealing celebrity conversations with the uInterview podcast!