Meghan McCain Says She's Still Waiting For Public Apology From White House Aide Kelly Sadler Over Remarks About Father
Meghan McCain continues to wait for a White House press aide to apologize publicly after making an insensitive remark about her ailing father that the aide called a "joke."
Meghan McCain On Kelly Sadler's Comments About Father
On Thursday, Kelly Sadler said that Sen. John McCain's opposition to nominating Gina Haspel as the new CIA Director was irrelevant because the Arizona Republican won't be around much longer.
"It doesn't matter, he's dying anyway," said Sadler of McCain.
McCain — an 81-year-old former Prisoner of War in Vietnam who serves as a ranking member of the Senate Armed Services Committee — has been resting at home since being diagnosed with a rare form of brain cancer in July 2017.
Subscribe!
A week of political news in your in-box.
We find the news you need to know, so you don't have to.
SLIDESHOW: DONALD TRUMP'S 30 CRAZIEST TWEETS
His 33-year-old daughter Meghan responded to Sadler's comment on Friday's episode of The View, where she serves as co-host.
Meghan McCain said that her father's health has been improving somewhat and said: "We're all dying," before adding: "It's not how you die, it's how you live."
She went on to say she was astounded that Sadler hadn't lost her job because of her comments. Many lawmakers from both parties denounced the comments, saying McCain deserved respect both as a war veteran and as a longtime member of the U.S. Senate.
"When I had a conversation with Kelly, I asked her to publicly apologize and she said she would," Meghan McCain told The Hill after revealing that Sadler had called her family on Thursday to apologize. "I have not spoken to her since and I assume that it will never come."
John McCain, who was tortured during the Vietnam War, said he opposed Haspel's nomination because of her history of overseeing torture programs and black sites as a CIA officer during the early years of the Iraq War. During a Senate Intelligence Committee hearing last week, Haspel refused to explicitly condemn the agency's past uses of waterboarding and other torture methods.
McCain's book The Restless Wave, which is due for release May 22, includes several sharp criticisms of President Donald Trump and his administration.
Meghan McCain also got into a brief argument on Twitter with actor Kumail Nanjiani on Monday morning.
The spat began when the Pakistani-American star of The Big Sick and Silicon Valley called Sadler's comment about McCain "vile" in a tweet on Saturday, but added that he wished the McCain family had denounced offensive comments about other "people/races/nationalities" with the same vigor.
What was said about McCain was vile, but I wish the McCain's had been as offended and vocal when vile stuff was said about other people/races/nationalities. Perhaps we wouldn't be in this moment right now.

— Kumail Nanjiani (@kumailn) May 12, 2018
Meghan McCain responded by sharing a link to a video of her father condemning racist comments made about Barack Obama during the 2008 presidential campaign. One of them was a woman who called then-candidate Obama an "Arab." McCain responded by taking the mic from the woman and saying, "No, m'am. He's a decent family man and citizen of this country who I just happen to disagree with on certain fundamental issues."
You mean like he did here? I could give you literally thousands of examples of my father speaking up against bigotry of all kinds but this video sums it up pretty concisely. You know nothing about my family or my father Kumail, nothing. https://t.co/wxDngff7U9 https://t.co/2fgI2yWdRx

— Meghan McCain (@MeghanMcCain) May 14, 2018

"You know nothing about my family or my father, Kumail, nothing," she replied to Nanjiani.
Nanjiani then clarified that he meant no offense to the McCains with his comment, and said "if we had more politicians like your father, the world would be a better place." Meghan McCain thanked the actor and comedian for that final tweet.
Thank you Kumail. https://t.co/YBRp4TcIbV

— Meghan McCain (@MeghanMcCain) May 14, 2018
Read more about:
Leave a comment
You must be logged in to post a comment.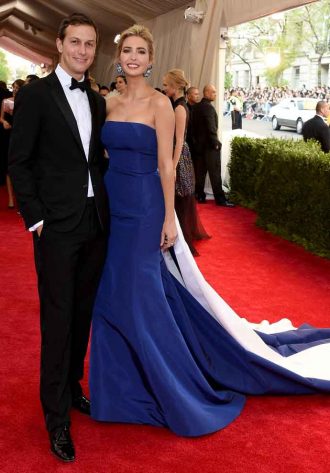 Click here for the 10 Most Powerful Political Couples Slideshow
Listen to the uInterview Podcast!
Get the most-revealing celebrity conversations with the uInterview podcast!