Kid Rock Says His U.S. Senate Campaign Run Was Just A Joke
Kid Rock, 46, admitted that his campaign run for the U.S. Senate was just a PR stunt to promote his forthcoming album.
KID ROCK ADMITS HIS SENATE RUN WAS A PR STUNT
The rocker announced his bid for Senate in September, creating an entire website devoted to his campaign, complete with Kid Rock 2018 merchandise. He finally came clean on The Howard Stern Show on Tuesday. "F–k no, I'm not running for Senate. Are you f–king kidding me?" Kid Rock said adamantly. "Who couldn't figure that out? I'm releasing a new album. I'm going on tour, too. Are you f–king s–tting me?"
His new album Sweet Southern Sugar will hit stores and streaming services on Nov. 3.
The Greatest Show On Earth Tour 2018 + New Album Sweet Southern Sugar on-sale 11/3. Pre-order: https://t.co/IXdZk3DuYU pic.twitter.com/WKZ1W4dkvs

Subscribe!

A week of political news in your in-box.
We find the news you need to know, so you don't have to.

— Kid Rock (@KidRock) October 24, 2017
Prior to that interview, the singer had blogged about the Federal Election Commission (FEC), as well as publicly commented on his opponent, Michigan Sen. Debbie Stabenow, and had come up with campaign slogans, including "Pimp of the Nation" and "Party to the People." Kid Rock, whose real name is Robert Ritchie, never actually filed with the FEC, which led most to assume that his campaign was actually a stunt.
And on Tuesday, he came clean, telling Stern it was all a "joke." "It's the worst advice I ever gave myself, but it's been the most creative thing I've ever done. And I've gotten to see everyone's true colors."
"We start going with it, everyone gets their panties in a bunch," Ritchie added. "I have people that work for me, they're on the in, I'm like, 'F–k no we're not doing it. But let's roll with it for a little while. This is awesome.'"
Ritchie did, however, leave the door open for a possible later Senate run, complete with a lot of swearing and a disrespectful comment about current Senator Stabenow. "If [the left wing] keep f–king with me in the papers and everything, I'm going to run," he said, laughing. "And I'm going to go to f–king D.C., I'm going to beat the shit out of Debbie — whatever the f–k her name is — and then I'm going to go to D.C. and I'm going to smack the living shit out of all of them motherf–kers on the Hill."
In fact, it is illegal to begin campaign activity without filing with the FEC, so a major Washington watchdog group has filed an ethics complaint against the singer for violating "campaign finance law 101." Apparently creating campaign signs and apparel violates FEC rules, as Ritchie was not actually a candidate. Stabenow has yet to comment.
Read more about:
Leave a comment
You must be logged in to post a comment.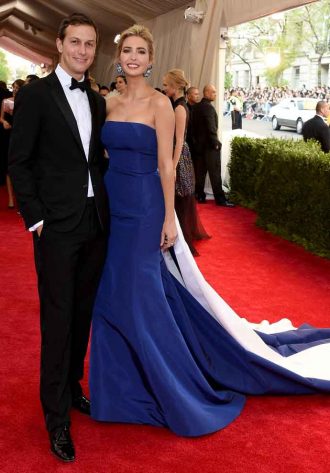 Click here for the 10 Most Powerful Political Couples Slideshow
Listen to the uInterview Podcast!
Get the most-revealing celebrity conversations with the uInterview podcast!