Jared Kushner Loses Top-Secret Security Clearance
Jared Kushner, Ivanka Trump's husband and one of President Donald Trump's top aides, has had his security clearance downgraded and now will not have access to sensitive documents, Politico first reported.
White House Chief of Staff John Kelly has been trying to revoke Kushner's security clearance — and that of other officials without permanent security clearance — since it was revealed that people with long-term "interim" clearance had access to classified FBI documents.
SLIDESHOW: DONALD TRUMP'S 30 CRAZIEST TWEETS
As such, Kushner isn't the only person in the White House whose security clearance was reduced — all White House aides at the Top Secret/sensitive compartmented information level were told Tuesday that they were being lowered to the Secret level.
Subscribe!
A week of political news in your in-box.
We find the news you need to know, so you don't have to.
Kelly himself did not sign the memo.
White House Press Secretary Sarah Sanders did not discuss Kushner's downgrade specifically during a press briefing Tuesday.
"We do not comment on individual security clearances," Sanders said. "We actually haven't commented on Jared's … but we have commented on his ability to do his job, which he's a valued member of the team, and he will continue to do the important work that he's been doing since he started in the administration."
Rep. Ted Lieu (D-California) has been questioning Kushner's security clearance for months. Lieu tweeted upon hearing the news of his clearance lowering.
"Now we get to ask a new question: Why does Jared Kushner still have a downgraded security clearance?" Lieu wrote.
He also questioned why Kushner wouldn't answer Congress members' questions about his discussions with Saudi foreign nationals in the same tweet.
Now we get to ask a new question: Why does Jared Kushner still have a downgraded security clearance?

Also, why hasn't #Kushner responded to this simple question from Congress Members: Did he have any talks with #Saudi foreign nationals about the troubled loan for 666 Fifth Ave? https://t.co/PL5SNcH4wi

— Ted Lieu (@tedlieu) February 27, 2018
Read more about:
Leave a comment
You must be logged in to post a comment.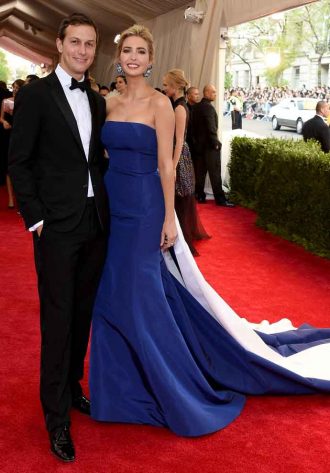 Click here for the 10 Most Powerful Political Couples Slideshow
Listen to the uInterview Podcast!
Get the most-revealing celebrity conversations with the uInterview podcast!