Homeland Security Secretary Kirstjen Nielsen Nearly Resigned After Trump Berated Her At A Cabinet Meeting – Report
Kirstjen Nielsen, the Secretary of Homeland Security, told colleagues Thursday she almost resigned after President Donald Trump harshly reprimanded her in a Cabinet meeting on Wednesday.
Kirstjen Nielsen Almost Resigned After Trump Scolded Her
According to The New York Times, Nielsen wrote a resignation letter but did not submit it. She became upset after Trump screamed her for not doing enough to secure the country's borders.
The president has repeatedly called for more measures to stop illegal immigration, including greater funding for a wall on the border with Mexico and introducing more border patrol guards.
SLIDESHOW: DONALD TRUMP'S 30 CRAZIEST TWEETS
Subscribe!
Stay informed on the latest political news.
Trump even ordered several thousands of National Guard troops to the border in early April to monitor the influx of immigrants. The president decried on Twitter what he believed was the proliferation of "caravans" of Latin American migrants crossing the border illegally. That term was used in multiple reports on Fox News earlier this year.
According to Politico, Vice President Mike Pence attempted to convince Nielsen on Thursday to remain in the White House.
In a news briefing, White House Press Secretary Sarah Huckabee Sanders responded to a question about the heated words traded at the Cabinet meeting by saying: "the president is committed to fixing our broken immigration system and our porous borders."
A spokesperson for the Department of Homeland Security refuted the claims that Nielsen was ever close to resigning, saying those reports were "false."
The @nytimes article alleging that the Secretary drafted a resignation letter yesterday and was close to resigning is false. The Secretary is hard at work today on the President's security-focused agenda and supporting the men and women of @DHSgov.

— Tyler Q. Houlton (@SpoxDHS) May 10, 2018
In January, lawmakers grilled Nielsen with questions after Trump used a vulgar term to describe countries like El Salvador, Haiti and African nations as well during a Cabinet meeting on immigration.
The president called those countries "s—holes," a word that drew sharp criticism from many lawmakers and media outlets. Sen. Corey Booker was especially incensed by Trump's remarks, and blasted Nielsen in a hearing for standing by the president rather than admitting his comments were racist. The New Jersey Democrat called Nielsen's silence and amnesia on the issue "complicit."
"That language festers. When ignorance and bigotry is allied with power it is a dangerous force in our country," Booker angrily told Nielsen. "You can't remember the words of your commander-in-chief. I find that unacceptable."

The number of illegal Mexican immigrants — and the number of arrests at the southern border — entering the U.S. has dropped substantially in recent years, and has even been at its lowest level since the 1970s, but Trump remains concerned about the issue.
"The President is rightly frustrated that existing loopholes and the lack of Congressional action have prevented this administration from fully securing the border and protecting the American people," Nielsen said in a written statement. "I share his frustration."
Nielsen previously worked for former President George W. Bush as a homeland security aide.
Read more about: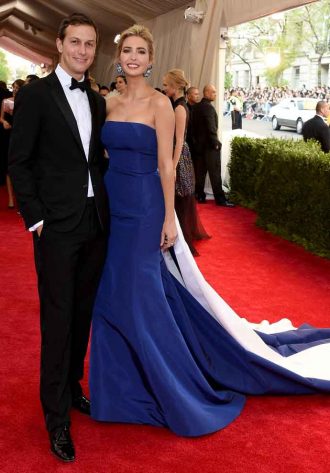 Click here for the 10 Most Powerful Political Couples Slideshow
Listen to the uInterview Podcast!
Get the most-revealing celebrity conversations with the uInterview podcast!