Feds Discuss Making A Legal Request For Rudy Giuliani's E-Mails
Prosecutors for the Southern District of New York (SDNY) are trying to gain access to Attorney Rudy Giuliani's emails, but they need the Justice Department's approval before seeking a search warrant for materials that may be protected by attorney-client privilege.
I'm proud to be number one on Biden Vindictive government list.

Sounds like the DOJ anti-Trumpers can't wait for Biden to make DOJ the GOVERNMENT Secret Police like they were under Obama.

They want to seize my emails.

Subscribe!

A week of political news in your in-box.
We find the news you need to know, so you don't have to.

No reason

No wrongdoing

Attorney-Client privilege.?

— Rudy W. Giuliani (@RudyGiuliani) December 22, 2020
Chuck Rosenberg, former U.S. Attorney for the Eastern District of Virginia, said he could see why Justice Department officials in Washington might hesitate to approve a search warrant close to the election out of the concern that its issuance could become public.
"It's sensible to perhaps treat a search warrant as an overt investigative step," Rosenberg told MSNBC. "Search warrants for a subject's personal belongings are not terribly discreet and the recipient of the warrant can talk about it. That could be a legitimate concern before an election but the equation changes after an election when you no longer need to abstain from overt investigative steps."
The status of the current investigation is unclear, but the Wall Street Journal reported that SDNY prosecutors were reviewing Giuliani's bank records as part of an investigation into his dealings in Ukraine in October 2019.
Lev Parnas and Igor Fruman, two of Giuliani's former associates, were arrested that October and charged with campaign finance and additional crimes related to wire fraud conspiracy. Both have pleaded not guilty.
In February, prosecutors were contacting witnesses and seeking to collect additional documents of Giuliani's. Since then, the status of the investigation and whether Giuliani was still under surveillance for his efforts to convince Ukraine to investigate Joe Biden over son Hunter Biden's finances is unknown.
"I have no reason to believe there's any truth to the allegations that there is renewed interest in my client," said Giuliani's attorney, Robert Costello.
Giuliani has reportedly been in talks with Trump about a possible preemptive pardon that would insulate him from federal charges, which Giuliani has since denied.
Read more about:
Leave a comment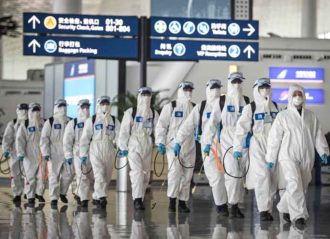 Click here for the 50 Best Photos Of The Year 2020 Slideshow
Listen to the uInterview Podcast!
Get the most-revealing celebrity conversations with the uInterview podcast!