Trump Wants Special Counsels Appointed To Investigate Hunter Biden & Baseless Election 'Fraud' Claims
President Donald Trump is looking to appoint special counsels to separately investigate both his baseless allegations of voter fraud and the tax allegations surrounding Hunter Biden, the son of the President-elect.
Trump has voiced interest in a special counsel to look into voter fraud since the election showed him losing by over seven million votes. There has been no concrete evidence that supports his allegations and courts have repeatedly ruled against his request to overturn the election results.
This appointment of a special counsel is said to become a major issue in the final days Trump is in office. It remains unclear how or when Trump might press the issue at the Justice Department, which will undergo a change in leadership next week when General Attorney General William Barr resigns.
It is unclear if Barr's replacement would fulfill Trump's commands.
Subscribe!
A week of political news in your in-box.
We find the news you need to know, so you don't have to.
50 Best Photos Of The Year 2020
The Hunter Biden investigation caused the feud between Trump and Barr because the Attorney General kept the Biden information private before the election.
Pat Cipollone, White House counsel, brought Trump and Barr together for a meeting on Monday that resulted in Barr submitting his resignation. The President tweeted afterward about his relationship with Barr, describing it as "very good" despite his constant anger.
Just had a very nice meeting with Attorney General Bill Barr at the White House. Our relationship has been a very good one, he has done an outstanding job! As per letter, Bill will be leaving just before Christmas to spend the holidays with his family…

— Donald J. Trump (@realDonaldTrump) December 14, 2020
Some of Trump's allies on the Judiciary Committee are on board with the special counsel while others think it's not a good idea.
"If the Biden transition team speaks for Biden, and he says the President is not going to interfere with anything going on in the Justice Department, I don't think we need a special counsel, but if we had a special counsel, it would obviously protect us from any possible interference," Sen. Chuck Grassley (R-Iowa) said.
Democrats on the Judiciary panel said they believed the Hunter Biden investigation was better left without a special counsel. Senate Minority Whip Dick Durbin (D-Illinois) noted that the federal investigation into these taxes has been going on "for some time now."
"I hope that the selection of Attorney General by President Biden makes it clear that a person of honesty and integrity can take the first look at this and handle it properly," he said.
Read more about:
Leave a comment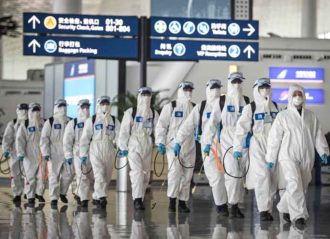 Click here for the 50 Best Photos Of The Year 2020 Slideshow
Listen to the uInterview Podcast!
Get the most-revealing celebrity conversations with the uInterview podcast!