Ex Trump National Security Adviser Michael Flynn Suggests Use Of Martial Law To 'Rerun' Election
Former national security adviser General Michael Flynn, who was pardoned by President Donald Trump last month, suggested to right-wing broadcaster Newsmax that Trump should use marital law to "rerun" the election in swing states.
Flynn told Newsmax, which has been endorsed by Trump as an alternative to Fox News, that voting machines were hacked to change votes for Trump to votes for Joe Biden, which is a popular conspiracy theory that many conservatives believe explains the loss of Trump to Biden.
"There is no way in the world we are going to be able to move forward as a nation," Flynn said. "[Trump] could immediately, on his order, seize every single one of these [voting] machines… with the swing states, if he wanted to, he could take military capabilities, and he could place those in states and basically rerun the election in each of these states."
Flynn has been supportive of using military force to run a second election, and has been tweeting support of a group, "We the People Convention," and their petition to demand action by Trump.
Subscribe!
A week of political news in your in-box.
We find the news you need to know, so you don't have to.
#WeThePeople @SidneyPowell1 @LLinWood @DanScavino @LouDobbs @MariaBartiromo @marklevinshow @lofly727

Freedom never kneels except for God 🙏🇺🇸https://t.co/Vrn3UeyDoF

— General Flynn (@GenFlynn) December 1, 2020
A National security law expert from Syracuse University, Bill Banks, called the tweet "preposterous," considering that this election was confirmed to be completed safe and legitimate.
50 Best Photos Of The Year 2020
"Apart from the fact that state and now federal investigators have found no evidence of election fraud that would change the election outcome, martial law has no place in the United States absent a complete breakdown of civil governing mechanisms," said Banks to the Military Times.
Read more about:
Leave a comment
You must be logged in to post a comment.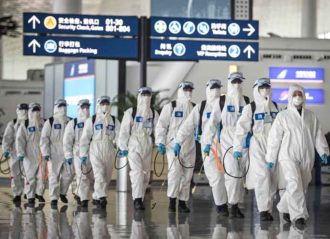 Click here for the 50 Best Photos Of The Year 2020 Slideshow
Listen to the uInterview Podcast!
Get the most-revealing celebrity conversations with the uInterview podcast!