Donald Trump Reverses U.N. Ambassador Nikki Haley On New Russia Sanctions
On Monday night, President Donald Trump rejected new sanctions against Russia in a move that contradicted the United States' ambassador to the United Nations, Nikki Haley's, previous statements.
On Sunday, Haley had announced sanctions against Russian companies supplying Syria with chemical weapons.
"Russia was supposed to guarantee that Assad wouldn't use chemical weapons, and Russia did the opposite," Haley had said during an emergency United Nations Security Council meeting on Friday. "The world must not passively accept the use of chemical weapons after almost a century of their prohibition."
SLIDESHOW: DONALD TRUMP'S 30 CRAZIEST TWEETS
Subscribe!
Stay informed on the latest political news.
During another UNSC meeting on Saturday, Haley again denounced Russia's actions in Syria.
"Russia's veto was the green light for the Assad regime to use these most barbaric weapons against the Syrian people, in complete violation of international law," Haley said. "The U.S. and our allies were not going to let that stand. Chemical weapons are a threat to us all."
During a press briefing on Friday, the White House asserted its stance that Russia was also partially to blame for Syria's chemical weapons attacks on its people.
"We're, again, confident that both Syria had responsibility in this chemical weapons attack, but we also hold Russia responsible for their failure to stop chemical weapons attacks from taking place," White House Press Secretary Sarah Huckabee Sanders said.
But on Monday, Sanders said in a statement that additional sanctions were only being considered and "a decision will be made in the near future."
During a press gaggle on the same day, Sanders reiterated Trump's desire to maintain friendly relations with Russia and its president, Vladimir Putin.
"The President has been clear that he's going to be tough on Russia. But at the same time, he'd still like to have a good relationship with them. But that's going to be determined by whether or not Russia decides if they want to be a better actor in this process or not," Sanders said. "But so far, we've seen that isn't the case, and the President is going to continue to be tough on them. And that's why we're continuing to evaluate a number of sanctions."
Read more about: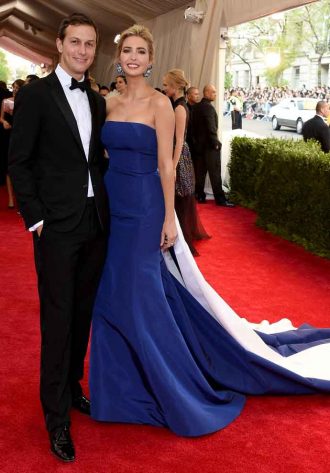 Click here for the 10 Most Powerful Political Couples Slideshow
Listen to the uInterview Podcast!
Get the most-revealing celebrity conversations with the uInterview podcast!