Donald Trump Calls Amazon "Stupid," Says U.S. Postal Service Is Online Retailer's "Delivery Boy"
Donald Trump assailed Amazon on Twitter on Tuesday, calling the online retail company "stupid" and accusing it of taking advantage of the U.S. Postal Service.
Donald Trump Amazon Criticism News
Amazon — a wildly successful multi-billion-dollar company — is just one of several giant firms the president has criticized for their business dealings. Trump once said Verizon made "a STUPID deal" for AOL. He also called Coca-Cola "garbage," though he continues to consume it, and claimed Sony had "really stupid leadership." He also called top executives at financial company S&P Global "losers."
SLIDESHOW: DONALD TRUMP'S 30 CRAZIEST TWEETS
These types of comments — along with the administration's imposition of tariffs on imports coming from China, which have instigated a trade war with the nation he has accused of dumping and currency manipulation — have caused stock markets to plunge in recent weeks. The Dow Jones has dropped more than 600 points, a record, several times, and many other indices have also plummeted.
Subscribe!
A week of political news in your in-box.
We find the news you need to know, so you don't have to.
Trump also said Amazon has long, repeatedly cost the U.S. Post Office amounts of money by using it as their "Delivery Boy." Several economic experts have refuted this claim and reportedly informed the president that he is wrong, although he remains steadfast in his belief on the issue. Experts have stated that the Postal Service does in fact make money from Amazon.
I am right about Amazon costing the United States Post Office massive amounts of money for being their Delivery Boy. Amazon should pay these costs (plus) and not have them bourne by the American Taxpayer. Many billions of dollars. P.O. leaders don't have a clue (or do they?)!

— Donald J. Trump (@realDonaldTrump) April 3, 2018
"The whole post office thing, that's very much a perception he has," a source told Axios. "It's been explained to him in multiple meetings that his perception is inaccurate and that the post office actually makes a ton of money from Amazon." https://t.co/NTgjmVmvPu pic.twitter.com/gvABSmG8Q3

— Kyle Griffin (@kylegriffin1) April 3, 2018
Amazon's stock price fell significantly this week, with shares dropping as low as $1,355.33. However, they rebounded and closed up 1.5 percent after Trump's threat of antitrust action against the firm.
Trump's comment in November that the $85.4 billion merger of AT&T and Time Warner would not be "good for the country" muddied the ongoing antitrust dispute between the two companies and the government.
Several major company executives have explained the impact of Trump's tweets on businesses.
"This is an unprecedented situation for companies. The president's tweets can cause significant reputational harm," Dean C. Garfield, the president of the Information Technology Industry Council, which represents big technology companies like Amazon, Dell, Facebook, Google and IBM, told the New York Times. "We are now at a place where about 90 percent of the companies we represent now have a presidential Twitter strategy in place."
Other people are less concerned that Trump's feud with these firms will last long.
Trump attacked the NFL several times last year after players began protesting the national anthem by kneeling or sitting to make a statement about racial inequality and police brutality.
Some of Trump's allies seem to believe the president is partially upset with Amazon because of its connection to The Washington Post, whose owner Jeff Bezos founded the e-commerce giant. The Post has also openly criticized Trump and his administration's policies.
Similarly, Trump's remarks on the AT&T-Time Warner deal could be tainted by his disdain for CNN — a subsidiary of Time Warner whom he has repeatedly attacked as "fake news."
Trump is not the first U.S. president to criticize big businesses, though other president's comments have been substantially more measured and informed.
Barack Obama once called out Staples for failing to provide more health care for its workers. "Shame on them," he said.
After the recession in 2009, Obama also criticized several major Wall Street and other financial institutions for using federal bailout money to hand out large bonuses to their executives.
"That is the height of irresponsibility," Obama stated without naming any firms. "It is shameful."
Under Clinton, the Justice Department strived to break up Microsoft after it was revealed the company was taking advantage of its monopoly power to dominate the Internet.
Pharmaceutical giant Merck's CEO Kenneth C. Frazier resigned from a presidential business council last year after stating his opposition to several White House policy positions, notably Trump's statements after the white supremacist rallies in Charlottesville, Virginia.
The council eventually disbanded after several discussions during which some members were reportedly hesitant to defend Frazier out of fear of being verbally lambasted by Trump.
Read more about:
Leave a comment
You must be logged in to post a comment.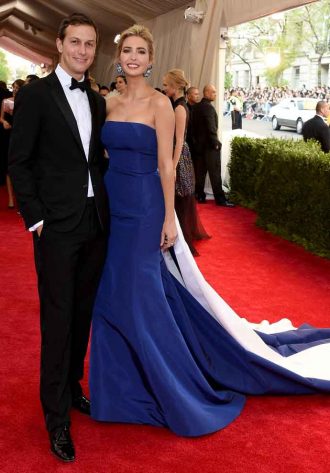 Click here for the 10 Most Powerful Political Couples Slideshow
Listen to the uInterview Podcast!
Get the most-revealing celebrity conversations with the uInterview podcast!