Dr. Harold Bornstein Says Trump Dictated His Own Medical Letter, Raided Office For Files
Dr. Harold Bornstein, President Donald Trump's former physician, has said that Trump dictated the overly complimentary letter about his health released in 2015, when he was still a presidential candidate.
Dr. Harold Bornstein Comments On Trump's Health Letter, Raid
"He dictated that whole letter. I didn't write that letter," Bornstein told CNN on Tuesday. "I just made it up as I went along."
The letter — released by the Trump campaign in December 2015 — described the former Apprentice star's health as "astonishingly excellent," called his strength and stamina "extraordinary" and claimed he was the "healthiest individual ever," among other things.
Trump shared Bornstein's report on Twitter at that time, although he erroneously said Dr. Jacob Bornstein had written it. (Jacob Bornstein died in 2010).
Subscribe!
A week of political news in your in-box.
We find the news you need to know, so you don't have to.
SLIDESHOW: DONALD TRUMP'S 30 CRAZIEST TWEETS
Harold Bornstein had been Trump's personal doctor since 1980. The physician quickly drew attention both for his comments about Trump's health and for his appearance: his long, scruffy white hair reminiscent of a mad scientist and his big eyeglasses were enough for people to view him as eccentric.
The letter did not cite specific evidence to back up the claims about Trump's health, except for a few facts like a blood pressure level of 110/65, and a statement about the then-candidate having lost 15 pounds over the previous year.
Bornstein initially said that he himself had written the letter and not Trump, although the doctor added that he was in a rush to see other patients and attend to other matters, and that's why the report seemed strangely written.
According to several reports this week, two Trump associates stormed into Bornstein's office in New York in February 2017 without warning to search for Trump's medical records. Bornstein claimed this was a "raid" and later said in an interview with NBC News that he felt "raped, frightened and sad" about the incident. The two men were Keith Schiller, a White House aide who worked as Trump's longtime personal bodyguard, and a lawyer for the Trump Organization. Bornstein said a third man whom he did not know was also present the day of the raid.
The search reportedly happened two days after Bornstein revealed to a newspaper that he had been prescribing Propecia, a medication designed to treat hair growth to Trump for several years. Trump was reportedly angry that the doctor divulged this fact.
According to the New York Times, Bornstein decided to tell NBC about the raid after seeing the many news reports about Ronny Jackson, the disgraced former White House physician who was ousted and who withdrew as the nominee to lead the VA amid allegations that he was often drunk while on duty and that he over-prescribed medications to many White House staff members. Jackson also gave Trump a suspiciously positive health report in a press briefing in January. He has also resigned from his post as White House doctor.
Bornstein admitted he was not given a form authorizing the disclosure of Trump's records and signed by the then-candidate. Thus, the doctor violated patient privacy laws by not having this form, which is called a HIPAA release.
White House Press Secretary Sarah Huckabee Sanders said in a briefing on Tuesday that taking possession of medical files was "standard operating procedure for a new president," and added that calling the February 2017 search a "raid" was a mischaracterization.
"Those records were being transferred over to the White House Medical Unit, as requested," Sanders explained.
Read more about:
Leave a comment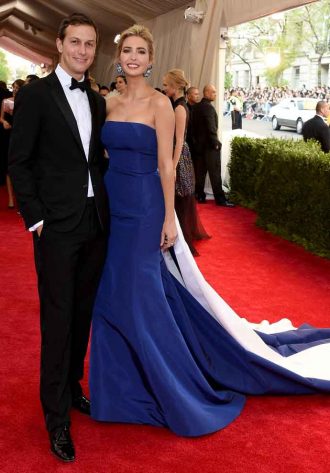 Click here for the 10 Most Powerful Political Couples Slideshow
Listen to the uInterview Podcast!
Get the most-revealing celebrity conversations with the uInterview podcast!