Did Melania Trump Receive Her Green Card Because Of A Modeling Photoshoot?
Melania Trump was granted a EB-1 green card designed for immigrants who have "an extraordinary ability" in 2001. The question is, how did Melania receive it?
In 2000, the Slovenian model petitioned the government to apply for the EB-1 program. For applicants to obtain the visa, they need to meet three of ten listed criteria or have won a major award in their field. An immigration lawyer that specializes in EB-1 and EB-2 visas Merrill R. Cohen told CBS News they are "not that difficult" to obtain. Some criteria to meet are the ability to "command a high salary or significantly high remuneration compared to others in the field," have "commercial successes in the performing arts," or have your work "displayed at artistic exhibitions or show cases."
SLIDESHOW: DONALD TRUMP'S 30 CRAZIEST TWEETS
According to her lawyer, Michael Wildes when she first came to the U.S in 1996, she was on a visitor's visa then on work visas. Since she was in the beginning stages of her career, her clout wasn't established. An anonymous source that knew the now First Lady in the 90s told the Washington Post, "She was never a supermodel, she was a working model – like so many in New York."
Subscribe!
Stay informed on the latest political news.
When she met Donald Trump in 1998, her modeling profile increased. Wildes told the Washington Post at the time she was modeling on a work visa for skilled immigrants, using 5 H1-B visas between 1996 and 2001.The year she petitioned the government for the EB-1 visa was the same year she appeared on the cover of British GQ magazine nude on a fur rug on Donald Trump's private jet with the headline, "Sex at 30,000 feet. Melania Knauss earns her air miles." Also in 2000, Melania was a featured model in the Sports Illustrated Swimsuit Issue.
When asked by CBS News about Melania's qualifications to receive an EB-1, Cohen responded, "While [the EB-1 category] is arguably the highest standard to which an alien is held when applying for a green card, it isn't meant to be limited to a single individual or two. Rather … it is reserved for that 'small percentage' of people at the top of the field. A model on the cover of GQ, and in Sports Illustrated, ect. will likely qualify, as he/she will likely have a lot more evidence than just those items."
Read more about: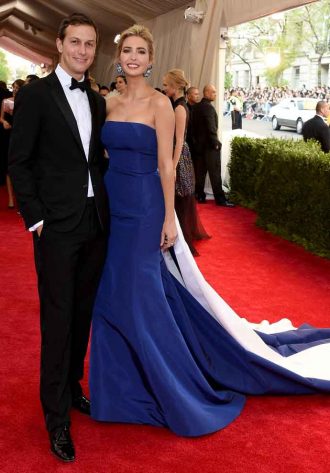 Click here for the 10 Most Powerful Political Couples Slideshow
Listen to the uInterview Podcast!
Get the most-revealing celebrity conversations with the uInterview podcast!