Democrats Reaction To Trump's State of the Union Address: "WTF!"
President Donald Trump gave his second State of the Union address Tuesday evening, which touched upon many of his usual talking points. According to the White House, however, one theme Trump aimed to discuss would be bipartisanship. While he did discuss his hope that both parties would be able to work together, he asked for Democrats' help in instating an abortion ban, building his border wall and ending investigations into him.
Democrats were not impressed. In the words of Sen. Mazie Hirono (D-Hawaii), "WTF!"
Rep. Gerry Connolly (D-Va.) drew comparisons between Trump and Richard Nixon, saying, "It was really inappropriate for a State of the Union address, and it gave a lie to this PR coming out of the White House that he was going to have a much more bipartisan speech. So disappointing and inappropriate and, frankly, the worst of Richard Nixon." Rep. Lloyd Doggett (D-Tex.) added how Trump's request to end investigations into him was "truly outrageous."
Sen. Jeff Merkley (D-Ore.) echoed the sentiment. "I heard no unity tonight," he said of Trump's speech. "Even the issues on which I think there should be a bipartisan basis, taking on the high cost of drugs, doing a significant investment in infrastructure, we heard no details and no plan. We heard the same empty campaign-style rhetoric we've heard before."
Subscribe!
Stay informed on the latest political news.
SLIDESHOW: DONALD TRUMP'S 30 CRAZIEST TWEETS
Trump's goal for ending late-term abortions was criticized by Democrats, saying how it directly clashed with his intended goals of compromise and coming together. Sen. Richard Blumenthal (D-Conn.) expressed how insincere Trump's gesture was, saying, "Calls for bipartisanship seem deeply hollow and empty in light of his calling for an end to the investigation, his support for ending a woman's right to choose, his distorted and deceptive claim that we'd be at war with North Korea now but for his presidency and of course his continued advocacy for the wall." Sen. Sherrod Brown (D-Ohio) added, "He used rhetoric to divide people as he always does."
However, Republicans were more positive about Trump's address. Sen. Ted Cruz (R-Tex.) said it's Democrats who are unreasonable. "Until the Democratic Party became radicalized, securing the border and stopping late-term abortion were bipartisan issues that brought us together," he said.
Trump's entire State of the Union address can be seen below:
Read more about: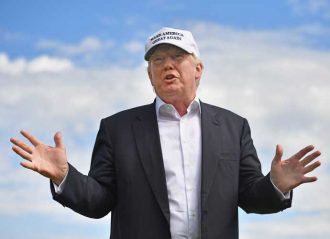 Click here for the Donald Trump's 30 Craziest Tweets Slideshow
Listen to the uInterview Podcast!
Get the most-revealing celebrity conversations with the uInterview podcast!