Biden Slams Trump's Efforts To Overturn Election Results After Electoral College Victory
President-elect Joe Biden spoke on President Donald Trump's efforts to overturn the election results in a speech Monday night after his presidential victory was affirmed by the Electoral College.
Since the 2020 election results were announced on November 7, Trump has repeatedly filed court cases to challenge the results but was unsuccessful.
"Every single avenue was made available for President Trump to contest the results," Biden said. "He took full advantage of each and every one of those avenues. President Trump was denied no course of action he wanted to take."
Biden noted Trump's claim that he won in a "landslide" in the 2016 election with 306 electoral votes, the same number Biden received in November.
"At the time, President Trump called the Electoral College tally a landslide," Biden said. "By his own standards, these numbers represented a clear victory then. And I respectfully suggest they do so now."
Pennsylvania, Michigan, Wisconsin, Georgia, Arizona and Nevada were the six states where Trump challenged the election results and as of Monday, all of their electors all cast their ballots for Biden.
Federal law states that presidential electors "shall meet and give their votes on the first Monday after the second Wednesday in December," which fell on December 14 this year.
A lawsuit filed by Texas with the Supreme Court against four key states made an effort to extend the December 14 deadline in order for the Electoral College to block electors of those states from voting.
However, the high court rejected the bid, advocated by Trump, on Friday. Congress will count the elector's votes on January 6.
50 Best Photos Of The Year 2020
Amid his talk about Trump's court cases and the Electoral College in his speech, Biden repeated his campaign promise to be a president for "all Americans." He also thanked local election workers, saying "we owe these public servants a debt of gratitude" for working during the COVID-19 pandemic and through threats of violence that surfaced from the results.
"We're a great nation, we're good people, we may come from different places and have different beliefs but we share a common love for this country and a belief in the limitless in the United States of American," Biden said.
Read more about: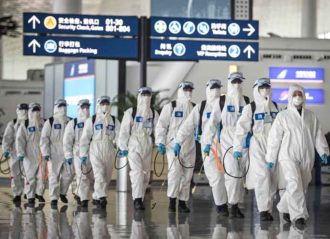 Click here for the 50 Best Photos Of The Year 2020 Slideshow
Listen to the uInterview Podcast!
Get the most-revealing celebrity conversations with the uInterview podcast!