Andrew McCabe: Justice Dept. Officials Discussed Recruiting Cabinet Members To Force Out Trump After Comey Firing
Former Deputy FBI Director Andrew McCabe revealed in an interview that will air Thursday that top Justice Department officials were so taken aback by President Donald Trump's decision to fire James Comey in May 2017 that they discussed the possibility of recruiting cabinet members to force Trump out of office.
McCabe said Justice officials were considering invoking the 25th Amendment to push out Trump. This constitutional provision says that the president can be removed from office if Cabinet members and a majority in Congress believe he or she is physically or mentally incapable of discharging his/her duties as commander-in-chief.
McCabe — who was fired in March 2018 by then-Attorney General Jeff Sessions — made the comments while speaking to Scott Pelley on CBS's 60 Minutes. The full interview is set to air on Sunday. the former deputy FBI director is promoting his upcoming memoir, The Threat: How the F.B.I. Protects America in the Age of Terror and Trump.
In the interview, McCabe revealed he spoke with Trump in 2017 just after then-FBI Director Comey's dismissal. The following day, McCabe said, he met with investigators probing Russian meddling during the 2016 election.
Subscribe!
A week of political news in your in-box.
We find the news you need to know, so you don't have to.
"I was very concerned that I was able to put the Russia case on absolutely solid ground, in an indelible fashion," McCabe said. "That were I removed quickly, or reassigned or fired, that the case could not be closed or vanish in the night without a trace."
"I was speaking to the man who had just … won the election for the presidency and who might have done so with the aid of the government of Russia." Former FBI acting director Andrew McCabe, Sunday on 60 Minutes. https://t.co/IVwcM11BGc pic.twitter.com/m6HwHMOqY9

— 60 Minutes (@60Minutes) February 14, 2019
SLIDESHOW: DONALD TRUMP'S 30 CRAZIEST TWEETS
Trump angrily reacted to McCabe's interview on Twitter Thursday morning, calling the former FBI official "disgraced."
Disgraced FBI Acting Director Andrew McCabe pretends to be a "poor little Angel" when in fact he was a big part of the Crooked Hillary Scandal & the Russia Hoax – a puppet for Leakin' James Comey. I.G. report on McCabe was devastating. Part of "insurance policy" in case I won….

— Donald J. Trump (@realDonaldTrump) February 14, 2019
Pelley also announced Thursday on CBS This Morning that McCabe confirmed The New York Times' claim that Deputy Attorney General Rod Rosenstein had suggested wearing a wire for meetings with Trump. Rosenstein is set to soon leave the Justice Department.
"There were meetings at the Justice Department at which it was discussed whether the vice president and a majority of the cabinet could be brought together to remove the president of the United States under the 25th Amendment," Pelley said. "These were the eight days from Comey's firing to the point that Robert Mueller was appointed special counsel. And the highest levels of American law enforcement were trying to figure out what do with the president."
Last month, Trump failed to forcefully deny allegations he once worked on behalf of Russia's government.
Read more about:
Leave a comment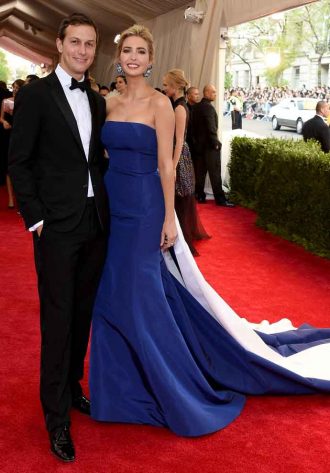 Click here for the 10 Most Powerful Political Couples Slideshow
Listen to the uInterview Podcast!
Get the most-revealing celebrity conversations with the uInterview podcast!