Trump's Mar-A-Lago Neighbors Demand President Not Move There In January
President Donald Trump's Florida neighbors are not pleased at the idea that he might be back in the neighborhood soon.
In Palm Beach, Florida, Trump owns the private club Mar-a-Lago, and his neighbors have delivered a demand letter to town authorities providing legal reasoning why Trump cannot make Mar-a-Lago his permanent residency after he moves out of the White House in January.
The letter, addressed to the U.S. Secret Service, states that Trump signed an agreement in 1993 that bars any club members from spending more than 21 days a year at the club, nor can they stay there for more than seven days in a row. Trump, at the time, stated that he would never permanently live at Mar-a-Lago, and by signing this agreement he turned his private residence into a private club.
His neighbors said that if the Secret Service would prevent him from moving back ahead of time, it would prevent an embarrassing scene where the president moves to Mar-a-Lago and then is asked to leave.
Subscribe!
A week of political news in your in-box.
We find the news you need to know, so you don't have to.
Mar-a-Lago has been a personal favorite of Trump's during his time as president, as he has been there at least 30 times and has spent at least 130 days there throughout the past four years.
50 Best Photos Of The Year 2020
Safety issues, such as crowds and traffic trying to see the president once he moves back, were also a concern of his neighbors. The Secret Service will also want to ensure a safe residence for Trump once he is out of the White House, as all former presidents have security details.
Read more about:
Leave a comment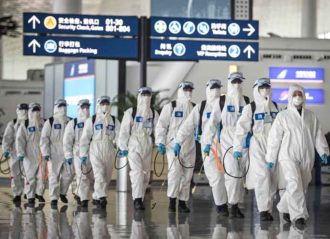 Click here for the 50 Best Photos Of The Year 2020 Slideshow
Listen to the uInterview Podcast!
Get the most-revealing celebrity conversations with the uInterview podcast!