Trump COVID-19 Adviser Paul Alexander Demanded 'Herd Immunity' Strategy For COVID-19 Which Could Have Killed Millions
One of President Donald Trump's top appointee urged health officials to adopt a "herd immunity" approach to COVID-19 and infect millions of Americans with the virus.
Science advisor Paul Alexander wrote on July 4 to Michael Caputo, Health and Human Services assistant secretary for public affairs:
"There is no other way, we need to establish herd, and it only comes about allowing the non-high-risk groups to expose themselves to the virus. PERIOD. "Infants, kids, teens, young people, young adults, middle-aged with no conditions, etc. have zero to little risk….so we use them to develop herd…we want them infected…"
He also argued that colleges should stay open to allow COVID-19 infections to spread in an email to Centers for Disease Control and Prevention Director Robert Redfield.
Subscribe!
A week of political news in your in-box.
We find the news you need to know, so you don't have to.
Senior Trump officials have repeatedly denied that herd immunity was under consideration or influenced the White House's approach to the pandemic. HHS Secretary Alex Azar testified in a hearing before the House coronavirus subcommittee on October 2, stating, "herd immunity is not the strategy of the U.S. government with regard to coronavirus," disagreeing with Alexander's claims.
50 Best Photos Of The Year 2020
Rep. Jim Clyburn, chair of the coronavirus subcommittee, said that the documents "show a pernicious pattern of political interference by Administration officials."
"As the virus spread through the country, these officials callously wrote, 'who cares' and we want them infected,'" Clyburn added. "They privately admitted they 'always knew' the President's policies would cause a 'rise' in cases, and they plotted to blame the spread of the virus on career scientists."
The health department has worked to distance itself from Alexander and his emails since his departure in mid-September.
Read more about:
Leave a comment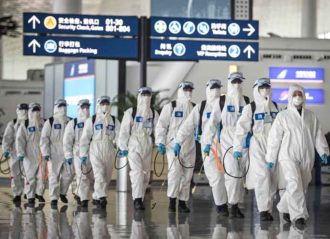 Click here for the 50 Best Photos Of The Year 2020 Slideshow
Listen to the uInterview Podcast!
Get the most-revealing celebrity conversations with the uInterview podcast!