President Trump Claims 'Access Hollywood' Tape Is Fake, Production Hits Back
After defending his words in the leaked 2005 Access Hollywood tape, Donald Trump is now declaring the tape fake.
TRUMP CLAIMS ACCESS HOLLYWOOD TAPE IS FAKE, SHOW ASSURES IT'S REAL
The now infamous tape of the president admitting to and even bragging about sexually harassing multiple women made the rounds during the 2016 presidential election. It caused a stir when Trump was caught on a hot mic saying that he preys on women and that many women allowed it because he was famous. He went as far as to say that he could "grab them by the p—-y," a quote that widely circulated. Trump eventually apologized for his words.
When the tape was leaked during the election cycle, Trump defended his words by saying it was merely "locker-room talk," that most men talk like that, and that there was no truth behind what he said. Now, it's being reported that the president is attempting to discredit the tape. The New York Times reports that Trump has told at least two individuals that the 2005 tape is fake.
Access Hollywood has responded to make it clear that the tape is very real. "We wanted to clear something up that has been reported across the media landscape," said host Natalie Morales. "Let us make this perfectly clear — the tape is very real. Remember his excuse at the time was 'locker-room talk.' He said every one of those words."
Subscribe!
A week of political news in your in-box.
We find the news you need to know, so you don't have to.
TRUMP: The "Access Hollywood" tape might be fake

ACCESS HOLLYWOOD: What you talkin' 'bout Willis? pic.twitter.com/EOFtO26czr

— Judd Legum (@JuddLegum) November 28, 2017
On Monday, actress Arianne Zucker, the host who appears in the Access Hollywood tape, as well as Billy Bush, agreed that the tape was authentic. "I don't know how else that could be fake unless someone's planting words in your mouth," Zucker said on CNN. "But it is puzzling to me… How do you apologize for something and then renege on it?"
"How do you apologize for something and then renege on it?" – Arianne Zucker, who appeared in the "Access Hollywood" tape reacts to reports of Trump questioning its authenticity https://t.co/hXLaGiktCa https://t.co/VARP7ztrbR

— Anderson Cooper 360° (@AC360) November 28, 2017
When asked on Monday about Trump's attempts to discredit the video, White House Press Secretary Sarah Huckabee Sanders avoided answering altogether. "The president addressed this, this was litigated and certainly answered during the election by the overwhelming support for the president and the fact he's sitting here in the Oval Office today," she said. "He's made his position on that clear at that time, as have the American people in support of him."
Sixteeen women have come forward and accused the president of sexual misconduct, ranging from voyeurism to assault. "He was like an octopus," said accuser Jessica Leeds, who claims Trump groped her on a flight in the 1980s. "His hands were everywhere."
In October, Trump called the allegations "fake news," and added, "It's made-up stuff, and it's disgraceful, what happens, but that happens in the world of politics." The following week, Sanders was asked if the official position of the White House was that all 16 women were lying. "Yeah, we've been clear on that from the beginning," she responded. "The president's spoken on it."
It took just 3 seconds for @SarahHuckabee Sanders to smear every single woman who has accused Trump as a liar: https://t.co/ugnwLBn555 pic.twitter.com/SSP3y142Ff

— Matt Wilstein (@mattwilstein) October 27, 2017
Read more about:
Leave a comment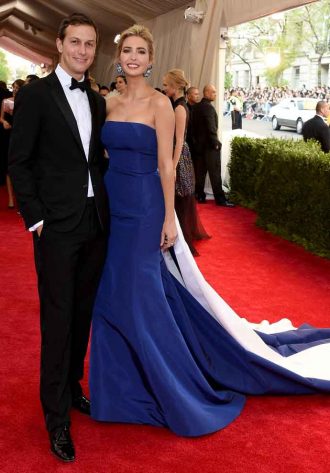 Click here for the 10 Most Powerful Political Couples Slideshow
Listen to the uInterview Podcast!
Get the most-revealing celebrity conversations with the uInterview podcast!