Kamala Harris Calls Nurse On Thanksgiving To Express Gratitude For Frontline Workers
With Thanksgiving being a day to express gratitude, Kamala Harris did not fall short in that area. Harris called several frontline workers on Thursday to express her appreciation for their fight against COVID-19. Out of the many people who received a special phone call from the vice president-elect was Talisa Hardin, a registered nurse at the University of Chicago Medical Center. "You know I just — I wanted to see you to say happy Thanksgiving," Harris told Hardin. "I know it's personal for you, and I know that it requires mental and emotional and physical and spiritual energy and power that you give to it, so thank you," Harris added during their 15 minute phone call.
50 Best Photos Of The Year 2020
Over the phone, Hardin shared her experience working as a nurse, something that felt familiar to her. Back in May, Hardin testified to the House Oversight Committee on behalf of the medical center and National Nurses United about the lack of resources and supplies offered to medical personnel who are serving on the front lines. "The percentage of patients under investigation who eventually test positive for the virus is very high, but our hospital management has consistently refused to give nurses in my unit the protections that we need to avoid exposure and infection," Hardin said in her testimony. As Hardin explained, you wouldn't send a soldier into battle without gear, so it is disgraceful that she and other nurses had to buy their own PPE because the hospital would not provide it for them.
See part of the phone call on Harris' Twitter here:
Subscribe!
Stay informed on the latest political news.
Earlier today @DouglasEmhoff and I called Talisa, a registered nurse in Chicago, and a few of our nation's frontline workers to thank them for everything they have done in the fight against COVID-19. We won't be able to get through this without them. pic.twitter.com/YKdLK0IKi1

— Kamala Harris (@KamalaHarris) November 26, 2020
Hardin is one of millions of frontline healthcare workers in the U.S. who have been the heroes throughout this pandemic.
Read more about: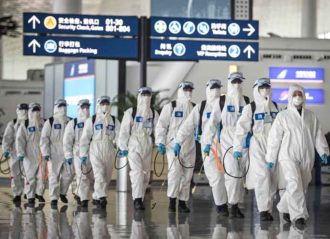 Click here for the 50 Best Photos Of The Year 2020 Slideshow
Listen to the uInterview Podcast!
Get the most-revealing celebrity conversations with the uInterview podcast!