GOP On Edge As Trump Is Set To Hold Rally In Georgia For Senate Runoffs
Hopping off Air Force One and speaking from a podium, President Donald Trump will host a Georgia post-election rally early Saturday while attempting to influence the highly anticipated U.S. Senate runoff on Jan 5.
Right now, the race for control of the Senate is a tossup, with two seats up for grabs in the runoff.
Georgia Republicans have expressed concerns amid escalating statewide tensions, communicating skepticism about the party's ability to retain control of the Senate. Some have also expressed apprehension over the impact of Trump's visit to the Peach State.
Neither of Georgia senators, David Purdue (R) and Kelly Loeffler (R), won over 50 percent whihc is required by state law to win the their seats, so a January runoff was scheduled.
Subscribe!
Stay informed on the latest political news.
50 Best Photos Of The Year 2020
"It's important that Trump comes and focuses on the Senate election and not the other peripheral sideshow of whining and complaining and making baseless accusations," said Allen Peake, a former state legislator, about the president's visit. "If all he does is whine and complain and talk bad about Kemp and the secretary of state, then the trip will be a disaster… This is a crazy time in Georgia politics."
The state is conducting its second historic ballot recount as Purdue prepares to face off again  against Democrat Jon Ossoff and Loeffler against Rev. Raphael Warnock. But Republicans are worried that by contesting the 2020 presidential election results, Trump is doing more harm than good to their political chances.
Read more about: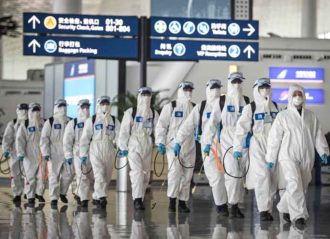 Click here for the 50 Best Photos Of The Year 2020 Slideshow
Listen to the uInterview Podcast!
Get the most-revealing celebrity conversations with the uInterview podcast!