GOP Georgia Election Official Gabriel Sterling Demands Trump Stop Inciting Violence: 'It Has To Stop'
Amid the highly anticipated runoff, a top Georgia election official demand on Tuesday that President Donald Trump stop challenging election results and start condemning threats of violence, warning that the integrity of the state's upcoming U.S. Senate runoff would be called into question.
Last month, Trump filed a second Georgia ballot recount petition, refusing to concede the election, that he lost to Joe Biden by about 12,000 votes.
State election official Gabriel Sterling demanded that the president stop further aggravating the political climate. "It has to stop," Sterling said. "Mr. President, you have not condemned these actions of language."
Sterling made the remarks after he and colleagues received threats from the disgruntled Republicans upset about the election results.
Republican Secretary of State Brad Raffensperger, Sterling's superior, has also claimed that he and his wife received death threats in the election's aftermath.
"Mr. President, it looks like you likely lost the state of Georgia," Sterling, a Republican, said. "Stop inspiring people to commit potential acts of violence. Someone is going to get hurt, someone is going to get shot, someone is going to get killed. And it's not right."
Sterling had written in a Nov. 21 tweet, which he later deleted, "So this is fun … multiple attempted hacks of my emails, police protection around my home, the threats…But all is well…Following the law, following the process…doing our jobs."
Sterling noted that Joe diGenova, a lawyer for the Trump campaign, said that former cybersecurity official Chris Krebs should be "shot" in an interview.
"Anybody who thinks the election went well, like that idiot Krebs who used to be the head of cybersecurity…That guy is a class A m*ron. He should be drawn and quartered, taken out at dawn and shot," diGenova said.
But the turning point that finally inspired Sterling to go public was Trump's attack on a 20-year-old contract worker for a voting company, residing in Gwinnett County.
Someone hung a noose in front of the worker's house and declared that the worked should be "hung for treason" for merely performing a routine element of his job.
Sterling said the attack on the worker was "the straw that broke the camel's back."
50 Best Photos Of The Year 2020
"I can't begin to explain the level of anger I have right now over this," Sterling said. "And every American, every Georgia, Republican and Democrat alike, should have that same level of anger."
Read more about: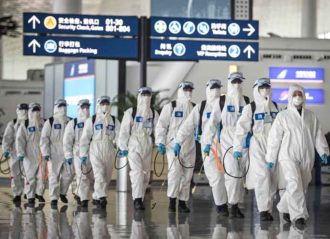 Click here for the 50 Best Photos Of The Year 2020 Slideshow
Listen to the uInterview Podcast!
Get the most-revealing celebrity conversations with the uInterview podcast!