George H. W. Bush Accused Of Groping By Multiple Actresses
Two actresses have come forward to accuse former President George H. W. Bush of assault this week. A spokesperson for Bush Sr. has issued an apology for any unintended harm he may have caused.
On Monday, actress Heather Lind took to Instagram and in a lengthy post detailed her first encounter with Bush Sr. at an event in 2014. "When I got the chance to meet George H. W. Bush four years ago to promote a historical television show I was working on, he sexually assaulted me while I was posing for a similar photo," she wrote.
While promoting Turn: The Washington Spies, Lind, who plays Anna Strong on the show, posed with Bush and his wife Barbara for a photo. The actress alleges that the former president "touched me from behind from his wheelchair with his wife Barbara Bush by his side."
Lind became disturbed after seeing a photo of the late George H.W. Bush shaking former President Barack Obama's hand at a recent event. "It seems to me a President's power is in his or her capacity to enact positive change, actually help people, and serve as a symbol of our democracy. He relinquished that power when he used it against me and, judging from the comments of those around him, countless other women before me. What comforts me is that I too can use my power," she said.
Subscribe!
A week of political news in your in-box.
We find the news you need to know, so you don't have to.
Lind hopes that her story can be used to help others who are dealing with harassment, in light of the recent Harvey Weinstein scandal. "I can enact positive change. I can actually help people. I can be a symbol of my democracy," she wrote in the since-deleted post. "I can refuse to call him President, and call out other abuses of power when I see them. I can vote for a President, in part, by the nature of his or her character, knowing that his or her political decisions must necessarily stem from that character."
Actress Jordana Grolnick has also accused the former President of assault. In an interview with Deadspin, the actress alleges that Bush Sr. groped her during a backstage event at the Maine Theater in August 2016.
"We all circled around him and Barbara for a photo, and I was right next to him," Grolnick told the website. "He reached his right hand around to my behind, and as we smiled for the photo he asked the group, 'Do you want to know who my favorite magician is?' As I felt his hand dig into my flesh, he said, 'David Cop-a-Feel!'"
Jim McGrath, a spokesperson for President Bush Sr., issued a statement shortly after the accusations came to light. "At age 93, President Bush has been confined to a wheelchair for roughly five years, so his arm falls on the lower waist of people with whom he takes pictures. To try to put people at ease, the president routinely tells the same joke — and on occasion, he has patted women's rears in what he intended to be a good-natured manner. Some have seen it as innocent; others clearly view it as inappropriate. To anyone he has offended, President Bush apologizes most sincerely."
Read more about:
Leave a comment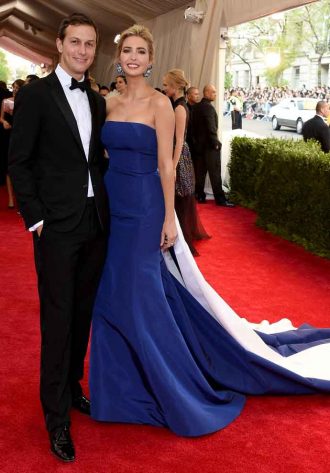 Click here for the 10 Most Powerful Political Couples Slideshow
Listen to the uInterview Podcast!
Get the most-revealing celebrity conversations with the uInterview podcast!