Bill O'Reilly Angry At God For His Sexual Harassment Allegations
Bill O'Reilly is angry that his career has been tarnished by the sexual assault allegations brought against him, and now the ex-host is blaming God.
BILL O'RELLY ANGRY AT GOD FOR SEXUAL HARASSMENT ALLEGATIONS
"You know, am I mad at God? Yeah I'm mad at him," he said on his web series No Spin News. "I wish I had more protection. I wish this stuff didn't happen." The former Fox News host lost his job earlier this year after multiple women reported him for sexual harassment. He denied the accusations then, and denied them again after a New York Times article revealed he had paid a $32 million sexual harassment settlement.
News of that settlement came six months after another Times article revealed that the pundit settled with five other women for a total of $13 million. O'Reilly was ousted from Fox soon after. "This is a jaw-dropping figure," said O'Reilly accuser and former Fox host Megyn Kelly. "What on Earth would justify that amount? What awfulness went on?"
O'Reilly claims the newspaper "maliciously smeared" his name, and said he settled with accusers to protect his children. "If I die tomorrow and I get an opportunity, I'll say, 'Why'd you guys work me over like that? Didn't [you] know my children were going to be punished? And they're innocent,'" he said in his defense on Monday.
Subscribe!
Stay informed on the latest political news.
I'm not going to run and hide because I didn't do anything wrong. NYT wants to take me out of the marketplace, second time they attacked me.

— Bill O'Reilly (@BillOReilly) October 23, 2017
In a separate interview with The Times, O'Reilly blamed Eric Bolling Jr.'s death on the fact that sexual harassment claims had been brought against his father, Fox News anchor Eric Bolling. Bolling later slammed the comment as "inappropriate," and O'Reilly apologized. "The message I tried to send was that allegations harm kids. Nothing more," he tweeted.
Apologies to Eric Bolling and prayers for him and his family. The message I tried to send was that allegations harm kids. Nothing more.

— Bill O'Reilly (@BillOReilly) October 23, 2017
Former network anchor Gretchen Carlson was one of the women to report O'Reilly for sexual harassment, as well as former Fox executive Roger Ailes. "Nobody pays $32 million for false allegations – nobody," she said. Kelly responded to the suit as well, saying, "This must stop. The abuse of women, the shaming of them, the threatening, the retaliation. Silencing them after the fact."
Read more about: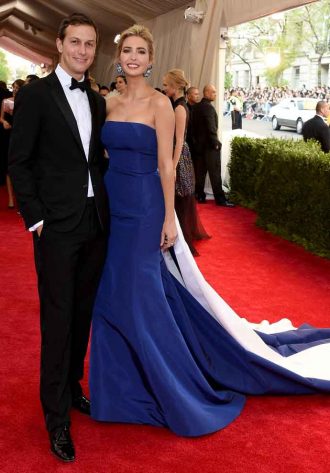 Click here for the 10 Most Powerful Political Couples Slideshow
Listen to the uInterview Podcast!
Get the most-revealing celebrity conversations with the uInterview podcast!