Biden Picks California Attorney General Xavier Becerra As HHS Secretary
On Monday, President-elect Joe Biden announced the health team that will lead his administration's response to the COVID-19 pandemic.
On Biden's roster includes California Attorney General Xavier Becerra, whom Biden nominated as Health and Human Services (HHS) secretary, along with Dr. Vivek Murthy as his nominee for U.S. surgeon general. Biden also selected Dr. Rochelle Walensky as director of the Centers for Disease Control and Prevention (CDC) and Dr. Marcella Nunez-Smith as his COVID-19 equity task force chair.
Under the Biden transition, Dr. Anthony Fauci will serve as chief medical adviser to the commander-in-chief. He will also continue in his role as director of the National Institute of Allergy and Infectious Diseases. 
Also, former Obama administration official and Biden transition co-chair Jeff Zients will serve as both COVID-19 response coordinator and counsel to the president, while Natalie Quillian will serve as deputy coordinator of the COVID-19 response.
Subscribe!
Stay informed on the latest political news.
The team will lead the administration's response as the nation battles with a pandemic that has killed almost 290,000 Americans as of Tuesday morning.
Biden is expected to hold an event Tuesday to introduce his health team.
"This trusted and accomplished team of leaders will bring the highest level of integrity, scientific rigor, and crisis-management experience to one of the toughest challenges America has ever faced — getting the pandemic under control so that the American people can get back to work, back to their lives, and back to their loved ones," Biden said in a statement.
He continued, "This team of world-class medical experts and public servants will be ready on day one to mobilize every resource of the federal government to expand testing and masking, oversee the safe, equitable, and free distribution of treatments and vaccines, re-open schools and businesses safely, lower prescription drug and other health costs and expand affordable health care to all Americans, and rally the country and restore the belief that there is nothing beyond America's capacity if we do it together."
Fauci told CNN's John Berman on Monday that he had worked with all of the other members of Biden's health team and called them "excellent choices."
50 Best Photos Of The Year 2020
"Obviously this is an enormous challenge that we're all going to be facing throughout the country, as we emerge into and from the winter months, so there's going to be a lot of activity both from a fundamental science standpoint – vaccines, therapies, understanding the disease better – as well as the public health response," Fauci said.
Read more about: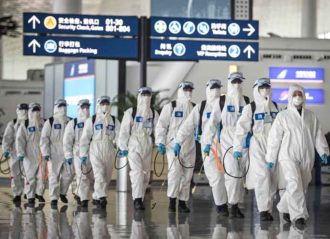 Click here for the 50 Best Photos Of The Year 2020 Slideshow
Listen to the uInterview Podcast!
Get the most-revealing celebrity conversations with the uInterview podcast!